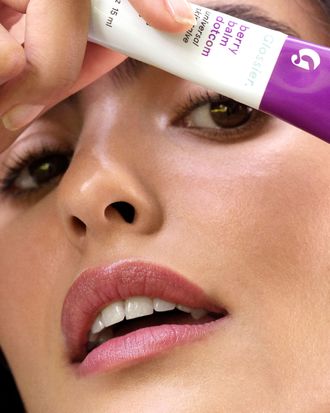 Photo: Courtesy of Glossier
Summer is prime time for wearing refreshing beauty products that you kind of want to eat. Thankfully, Glossier has cooked up a brand-new flavor of their universal skin salve, Balm Dotcom, for the final month of tangy, citrus-y, sweet frivolity before we turn our palettes to less photogenic gourds and such.
Today the brand announced that the hydrating balm in a tube now comes in a luscious Berry flavor that leaves a pretty, sheer, berry tint to match. According to a release, putting this on your lips will make them "look like you ate a handful of wildberries at a summer picnic." This would be nice considering some of us still haven't been invited to a summer picnic and would very much like to not sensually eat blackberries by our lonesome.
The new addition of Berry really rounds out the robust Balm Dotcom menu which currently includes five other food-inspired flavors (Mint, Coconut, Mango, Cherry, Birthday Cake) and two trusty staples; Original (clear and tasteless) and Rose (pink-tinted and rose-scented and/or rose-flavored if you eat roses).
To celebrate the newcomer, Glossier is celebrating with a special, seasonal (i.e. limited-time) Balm Dotcom Set that gets you all eight flavors for $75 and free shipping, which saves you $21 to spend on other things you may want to eat before fall rolls around.
Photo: Courtesy of Glossier
If you buy something through our links, New York may earn an affiliate commission.