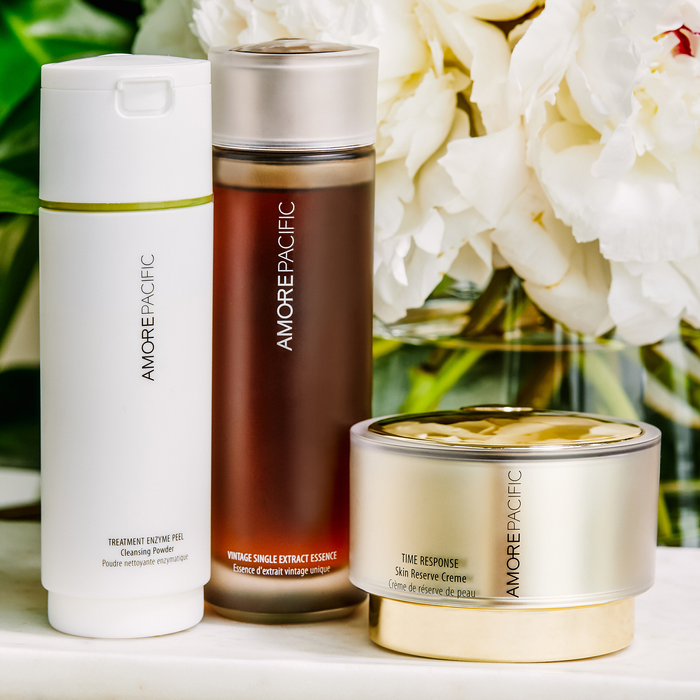 Photo: Courtesy of AMOREPACIFIC
It's a well-known fact by now: Green tea is good for us. Its virtues have been spelled out for centuries, and it's been praised as a healing agent in traditional Chinese and Indian medicine. It has a higher concentration of antioxidants than other varieties of tea, which makes it a potent ingredient not only in beverage form but also in skin care.
Our branded content editor, Katie O'Donnell, recently put green tea to the test, trying it in three luxe AMOREPACIFIC products. The Korean beauty brand has spent decades researching green tea and has developed its own proprietary strain, which is specifically for skin care. It contains even more antioxidants than the green tea we drink, harnessing its power for the skin.
It Helps Unclog Pores
Green tea is packed with polyphenols, which are antioxidants that offer serious skincare benefits. The most abundant polyphenol in green tea is known as EGCG, which can help protect skin against common bacteria that cause breakouts and regulate pore-clogging sebum.
One face wash that incorporates green tea is AMOREPACIFIC's Treatment Enzyme Peel Cleansing Powder. The powder-to-foam cleanser doubles as an exfoliant and is gentle enough for daily use, even on sensitive skin. It uses green tea-derived enzymes to help remove dirt and dead skin cells, while also gently polishing the face for smoother and more even-toned-looking skin. It's become O'Donnell's daily face wash. "Compared to other cleansers I've used, this one felt really light and fresh when it came in contact with my skin — it's like I could actually feel the quality of the ingredients," she says. "My skin felt noticeably soft, versus stripped like it can with so many other cleansers."
It Helps Reduce the Look of Redness
A powerful anti-inflammatory agent, green tea can reduce chronic inflammation in the body. Those same anti-inflammatory properties can work their magic on the skin, too, minimizing the look of redness that so many people experience. This is the type that's unrelated to sun exposure and that's potentially caused by things like heredity or food sensitivities.
Besides wearing SPF and keeping your face clean and moisturized, anything you can do to calm your skin is useful. Incorporating green tea extract into your daily skincare routine may help curb the appearance of redness before it starts, by naturally shielding the skin from free radicals and environmental factors that are aggravating.
It Helps Reduce the Effects of Sun Damage
Back to EGCG, that powerful ingredient so abundant in green tea. One study found it helped reduce roughness and visible sagging — two things associated with skin damage caused by UV rays — and helped support collagen levels.
To complement her daily SPF, O'Donnell loves splashing AMOREPACIFIC's Vintage Single Extract Essence on her face after washing it. "With summer rays bringing out sunspots and texture on my face, I'm all about a light-touch anti-aging product," she says. "The most noticeable thing about this essence is that it actually looks like tea. It's a beautiful steeped-tea color that pats on translucently and feels as refreshing as water."
This deep color comes from the slow, intense process that's used to make AMOREPACIFIC's essence on Jeju Island off the South Coast of Korea. It takes 101 days: First, green tea leaves are naturally fermented for 50 days, and then they're placed in Korean earthware and buried in the ground for another 50 days, allowing them to age naturally. After that, the essence is slowly extracted over the course of 24 hours, and the result is a product that's packed with catechins (an essential component in EGCG) to help improve skin clarity, texture, and elasticity.
The end product is lightweight and quick-absorbing. It's absorbed almost instantly into the skin, as opposed to serums that can sort of sit on top of it," says O'Donnell. "The resulting finish is pristinely clean, subtly hydrated, and just barely dewy — an ethereal, post-shower kind of freshness."
It Helps Reduce Under-Eye Circles and Puffiness
Putting tea bags under the eyes is a well-known home remedy: For generations, people have used them to help fend off dark circles and puffiness. This has a lot to do with caffeine, which helps reduce swelling within minutes. Antioxidants — something green tea has more of than other types of teas — lend an anti-inflammatory effect that visually tightens skin and lightens dark circles.
While placing cooled tea bags under the eyes for five to 10 minutes remains a decent way to treat under-eye circles and puffiness, a healthy lifestyle (with plenty of sleep, more water, less alcohol and salt) along with an antioxidant-rich beauty routine can help prevent them. More green tea products, please.
It Helps Give a Healthy-Looking Glow
Fine lines, wrinkles, and most everything else we think of with visible skin aging can be associated with a common factor: the buildup of free-radical damage. That's caused by things like eating fried food, drinking alcohol, smoking cigarettes, and coming in contact with pesticides and air pollutants, making it impossible to avoid altogether. Fortunately, EGCG also helps reduce free radicals, which can improve the condition of skin and boost a glowy look.
While any green tea-based beauty product will contain EGCG, AMOREPACIFIC's Time Response Skin Reserve Creme uses a specific extraction method that increases the concentration of it. When O'Donnell tried it, she quickly noticed the difference.
"I couldn't stop looking at my face in the mirror, admiring how plump, even, and glowy my skin looked. Wearing it overnight makes my pores look smooth, and my skin noticeably hydrated," she says, noting the product itself is impressively luxe. "The packaging is a stunning golden pod that comes with a little spatula to spread on the cream. Just a little goes a long way."
Of her revamped skincare experience, O'Donnell says her most impactful takeaway was finally getting the hot-right-now concept of "glass skin." "Overall," she says, "I looked the way I imagine award-winning film actresses wake up, or what my selfies look like with an imperfection-blurring filter (minus the weird, very obviously artificial part)." And while she's the first to note that her skin definitely isn't perfect, she's noticed that it's much more radiant, clear-looking, and distractingly dewy thanks to the trio of TLC-driven products she's newly adopted — even if it's not actually crystal-clear.
This is paid content produced for an advertiser by New York Stories. The editorial staff of The Cut did not play a role in its creation.