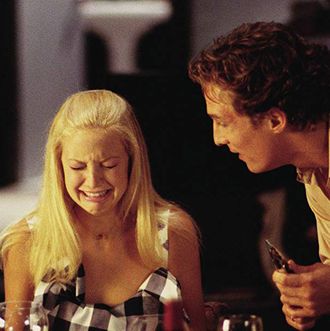 How to Lose a Guy in 10 Days.
Photo: Paramount Pictures
Comedian Guy Branum has been tasked with breathing new life into a beloved romantic comedy from the early aughts. The in-the-works short-form streaming platform Quibi announced today that it's put into development a "modern take" on 2003's How to Lose a Guy in 10 Days, which originally starred Kate Hudson and Matthew McConaughey, and Branum has signed on to write. The show will center on a "glib young online columnist and an oversexed advertising executive who both need to prove, once and for all, they're capable of being monogamous. They soon discover, however, keeping a relationship is harder than Andie Anderson made it look!"
"We were all certain you could not make a good romantic comedy anymore because print media is dead and RomCom ladies have to work at magazines, but against the tides of history, Quibi & Paramount have agreed to let me re-write 'How To Lose A Guy In 10 Days," Branum wrote on the news. "I will be observing and consulting numerous photos of shirtless Matthew McConaughey to properly research this task."
In addition to his former work as the creator and host of TruTV's Talk Show the Game Show, Branum most recently published his first book, My Life As a Goddess: A Memoir Through (Un)Popular Culture, last year. Quibi has a pile of comedy projects currently in development, including Action Scene starring Kevin Hart and a murder-mystery series from Paula Pell and John Lutz.