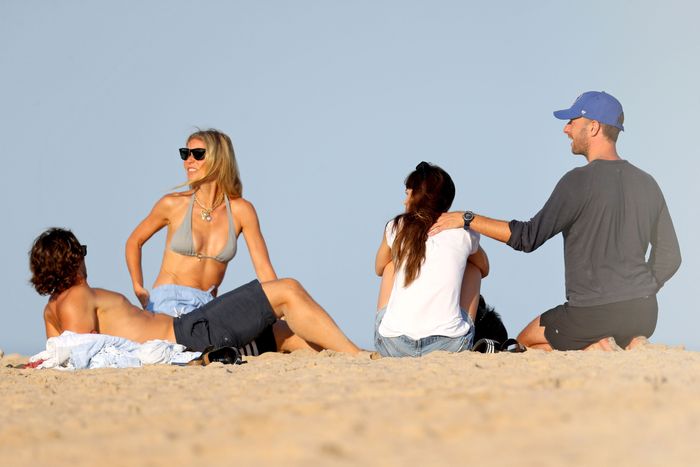 Photo: TheImageDirect.com
It's been five years since Gwyneth Paltrow introduced the unforgettable notion of "conscious uncoupling" to the world, via her divorce from now
ex-husband Chris Martin. In early 2014, the pair had announced their separation on her lifestyle website, Goop, through a blog post titled with the aforementioned phrase. Paltrow had good intentions behind the quirky concept, explaining that she and Martin had aimed for an amicable divorce, doing whatever was needed to keep their children's best interests in mind. But she still ending up receiving backlash for her curious choice of words. People took it as just another kooky Goop thing.
It looks like Paltrow got the last laugh. Conscious uncoupling actually works. Not only has she been able to have a healthy relationship co-parenting with Martin, but also the two are friendly enough to go on double dates with their significant others … to the beach! Paltrow and her husband, Brad Falchuk, recently hung out in the Hamptons with Martin and his on-again girlfriend, Dakota Johnson.
What a scene: Just four hot famous people who were/are in relationships with each other, soaking up the sun's rays in beautiful, conscious, uncoupled, harmony. For those of us who would rather have half of our exes disappear from existence in a Thanos finger snap, this is almost jarring to see.
In March of this year, Paltrow had been a guest on Dax Shepard's Armchair Expert podcast and talked about the backlash she received about the phrase, which she said was coined in the 1970s. "It was so hard and I was so worried about my kids. It felt like a layer of the world turning on us about saying, essentially, 'We just want to be nice to each other and stay a family,'" Paltrow said.
Paltrow may get a lot of heat for her V-steams (no pun intended), jade eggs, and $15K vibrators, but she knows what she's talking about when it comes to having a healthy relationship with her babies' daddy. Now, are Falchuk and Martin on the same level as Jason Momoa and Lenny Kravitz? Until we see some matching rings, we may never know.