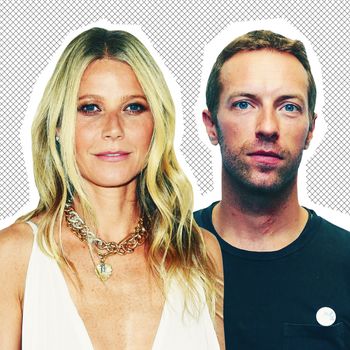 As a blogger and consumer, I sense that Gwyneth Paltrow exercises an inordinate and scary amount of control over my lived experience. I wonder if Chris Martin also feels this way.
On Wednesday, Us Weekly reported that the actress, Goop founder, and laid-back influencer who plays chess with human hearts "pushed" her ex-husband to reconcile with his girlfriend, Dakota Johnson.
Martin and Johnson reportedly got back together after a very brief split in June (the two began dating in 2017). Now a source tells Us Weekly that "Gwyneth is the one who pushed them to do it." This latest development is in harmony with the narrative tabloids have crafted (or perhaps indulged) over the past several months. In April, for instance, Paltrow and Johnson were seen hanging out together, at which time a source told Us Weekly that "Gwyneth is happy if Chris is happy" and "she only wants the best for him."
Last year, Paltrow celebrated Thanksgiving with the couple and her new husband, Brad Falchuk. A source told E! News in November, "Gwyneth thinks [Dakota] is lovely. She gets on very well with her and is happy for Chris … They've spent a good amount of time together and have a very nice friendship." Just this week, Paltrow finally allowed Falchuk to move in with her.
In a way all of this sounds fine! Paltrow and Martin have kids together, and why should successful, financially invincible, and beautiful exes not support one another's happiness? All I wish to demonstrate is that somehow Paltrow appears to be pulling the strings, and that she's probably the one who convinced Dakota Johnson to close her tooth gap.