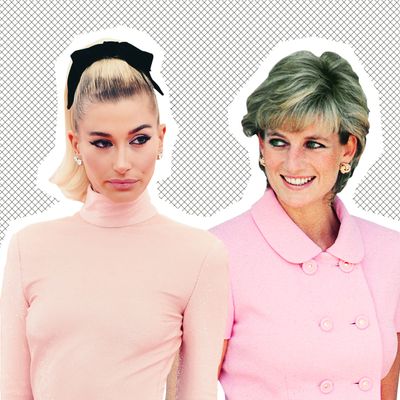 Hailey Rhode Bieber is not a princess, despite being married to pop prince Justin Bieber. However, she is a model, which allows her to play the role of princess in the pages of Vogue Paris, with the help of photographer Gregory Harris and stylist Virginie Benarroch. Specifically, Bieber dressed up as Princess Diana, copying some of Diana's most famous paparazzi shots. Cue the biker shorts!
In her Instagram post, Bieber thanked Princess Diana for "leaving behind such an iconic fashion and style legacy." While the model isn't known for looking like a Sloane Ranger — British for prep — her signature style isn't that far from Diana's workout outfits. This paparazzi shot of Bieber from May this year isn't so far off from her Vogue Paris shoot. And as much as I would have loved to see Bieber in a Laura Ashley cardigan or a fascinator, the shoot mostly stuck to the biker short theme.
However, there was one unexpected look: a re-creation of an outfit Princess Diana wore to cheer on Prince Charles in a polo match. The closest Bieber has gotten to organically re-creating this look is with a pair of stiletto boots and a tight black shirt. Call it the exception that proves the rule, though, because it's shocking to see how similar Princess Diana and Hailey Bieber's off-duty style is. On-duty is perhaps another story, though — try as I might, I can't find a photo of Diana in a dress with a purposeful whale tail.