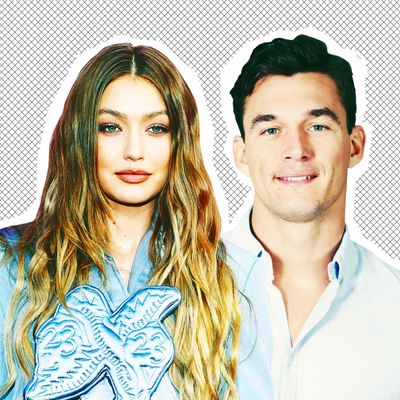 Model Gigi Hadid and Bachelorette star Tyler Cameron have taken their courtship to the next level: a second date.
On Sunday evening, the press picked up on what is believed to be their first romantic encounter— socializing at Brooklyn's Dumbo House, followed by a nightcap at Gigi's. Monday saw the pair throwing gutters and strikes at Frames Bowling Lounge, also in New York City.
A source told E! News that "Gigi is definitely interested in Tyler. They met for drinks last night at Soho and they got along really well. It was very casual but they were laughing and had a very engaged conversation." As with most couples who have made it all the way to the second date, the source said of Hadid and Cameron, "they are both taking things slow but have both made it clear they are interested in each other."
The source also said that the two met on Instagram, where a dash of mutuals in the modeling industry helped them find common ground. Apparently Hadid knew Cameron "before he got any wind of fame from The Bachelorette."
Of course, it's all a bit messier than that. Hadid is extremely famous in her own right, but Cameron's movements have been documented incessantly these past few weeks, especially since the tumultuous conclusion of his reality-TV show on which he was *SPOILER ALERT* the runner-up but also the sort of default winner after the actual victor turned out to have held back some information from Bachelorette Hannah Brown (a girlfriend at home, depending how you look at it?). Just last week, Cameron reportedly spent the night at Brown's home in L.A.
Brown commented on Cameron and Hadid's relationship at ABC's Television Critics Association press tour in Beverly Hills on Monday, saying, "I have feelings, but I'm also single and he's single and I wanna keep my options open and he can keep his options open." Brown clarified that her night with Cameron was more low-key than it may have appeared to fans. "We definitely hung out and talked about everything," she said. "I know nobody will believe me [about] just hanging out and actually talking, but it was good to be able to catch up. We had a lot to talk about." I'm sure they did!