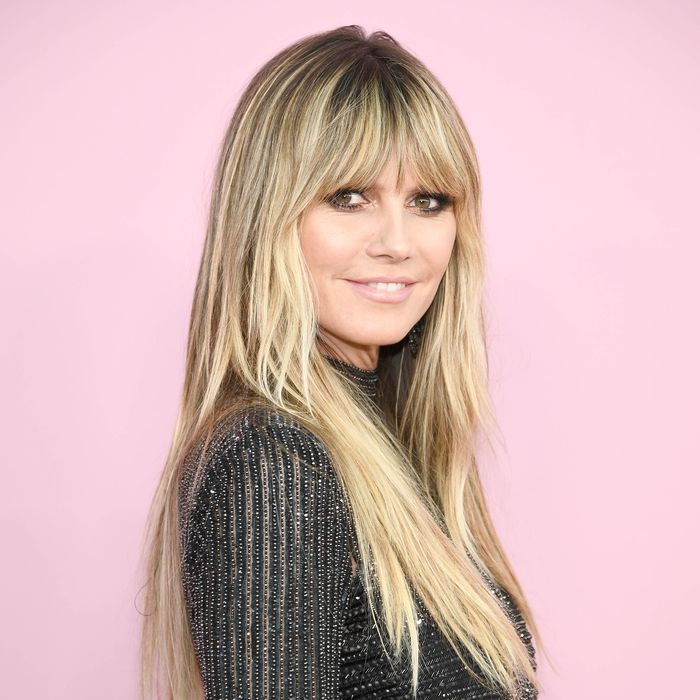 Photo: Dimitrios Kambouris/Getty Images
While pumpkin spice already made its debut, and Halloween décor has been spotted in Target aisles for weeks, the true sign of the spooky season is nigh. Heidi Klum, the "Queen of Halloween," has given a sneak peek of her costume for the forthcoming holiday. (Sort of.)
In an Instagram video, Klum is seen in a bra, underwear, and heels, standing still and crouching slightly, while a technician captures her measurements with a handheld optical scanner — already a sign that we can expect some serious prosthetics.
Klum, who throws a huge bash each Halloween, is so serious about the holiday she often incorporates prosthetics, theatrical makeup (usually enlisting special-effects-makeup artist Mike Marino), and even dance instructors to help nail down her costume. She once told People that she'll sometimes prepare for the following year as early as November 1, yes, the day after Halloween. Heidi don't play!
Last year, Klum and her now-husband Tom Kaulitz were unrecognizable as Princess Fiona and Shrek, which, as Klum told WWD, took the couple nine hours to prepare for. "People are always, like, 'I want you to be proud of my costume. We're coming to your party, so we have to try a little harder than we normally would,'" Klum told the outlet. And that they should.
Previous costumes of Klum's included her clones, a 95-year-old version of herself, Jessica Rabbit, and a werewolf from Michael Jackson's "Thriller," which required the aforementioned dance lessons. As for her costume this year, it will be anyone's guess! While we can be sure to expect more sneak peeks from Klum in the next two months, she always keeps her costume details top secret until October 31.
In the meantime, the self-proclaimed second queen of Halloween (me) will be waiting for an invite to her party. I, too, don't play!