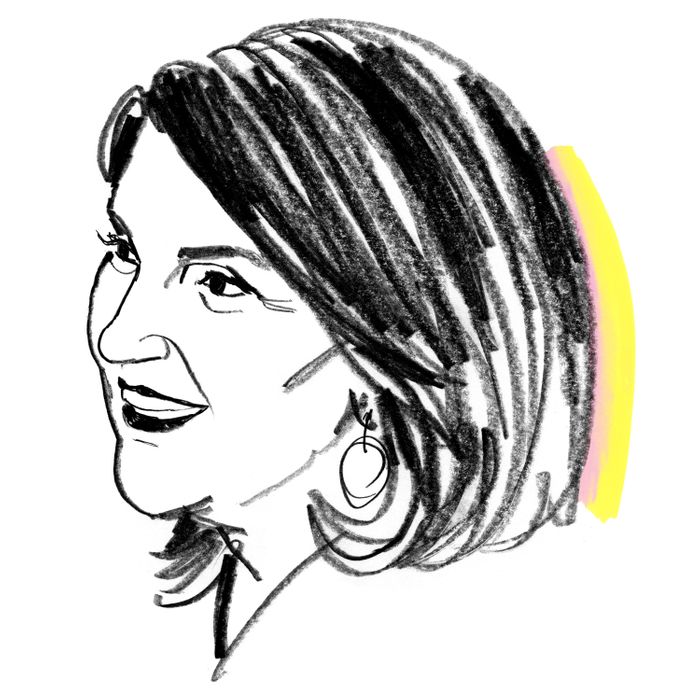 Susan Miller.
Illustration: Lauren Tamaki
Susan Miller is arguably the world's most famous astrologer. An early pioneer of the digital world, she founded her website Astrology Zone in December 1995. More than two decades later, she's published ten books, has an eponymous app, and writes horoscopes that are read by more than 6 million people each month. She lives on the Upper East Side. Here's how she gets it done.
On a typical morning:
I often get up before seven o'clock. I don't need an alarm; I sleep five hours, even in China. I know this sounds crazy, but I call my bank first thing when I wake up. I have a bookkeeper and a very expensive accountant on Park Avenue, but I write the checks to all of my employees myself. When you're in business, you want a lot of paper trails. I have a photographic memory, so I want to see which checks went through. Sometimes people don't cash them, or they lose it and are afraid to tell me.
Then I take vitamins. I take vitamin C and I take a probiotic. I watch Morning Joe on MSNBC. I run around with a face mask on every day because I'm an ambassador for Fresh.
On her writing schedule: 
By eleven o'clock every day I'm working. I go to Dunkin Donuts to write. Why not Starbucks? First of all, Starbucks is dark and I need light. Dunkin is just happy, with all the glass looking out on the avenue. What I like the best about Dunkin Donuts is how low the table is. It's good on my hands and wrists. I don't know why it's important to be in a different place, but it is. I love the summer when you can sit outside and get a little air. There aren't a lot of places like that in New York, so if you find any, tell me.
We always think of people working under the most perfect conditions, and it's almost never that way because life is messy. There's always a lot of pressure on me to finish and get it out on time. And yet I'm able to take a deep breath and give my all to the sign that I'm writing, and not rush through the last three.
On working on the weekends: 
Believe it or not, if you continue working, it's better than stopping and starting. People don't like Mondays because they didn't work over the weekend. I work on weekends, but it's fun for me because I'm traveling and writing in new places and making new friends. My appearances are really fun for me because I can hear people's stories and what they say.
I'm writing many times until 3 a.m. in the morning. Sometimes I'm so tired I sleep at my computer. Sometimes, I sit at my computer and nothing's coming. I'm just exhausted. So I think of other little jobs I have to do, you know, like going to CVS or running down to Bloomingdale's to get more pantyhose. I'll do odd jobs that have to be done anyway, but that aren't as taxing as writing. There's a saying that change is as good as rest, and I agree.
On her writing style:
All the readers know my voice. They'll tell me when another website has copied and pasted things here and there. I also have a style guide and a list of banned words that I give my magazine editors. I never use the word "issues." It's an angry word. I don't like the word "boundaries" because I don't have any. If somebody steals all my energy, I'll just go to sleep and fill up again by morning. I also don't like pop-psychology words like "enabling." You try to do something nice for someone and suddenly people have words that are derogatory for the good intentions you had.
I get inspiration from poetry, from great words. That's why I keep the TV on whenever I'm working. Every once in a while I hear a word and I'm like, Ooh, that's a really beautiful word. I have to find a reason to use it.
On creativity:
I love fashion. Fashion is art and culture. It reflects thinking and culture more than we are conscious of. I don't have time now, but when the children were little, I made them the most beautiful dresses. I love making things. If I can say, I made that, it will make me happier than the money. Creativity never gets old.
On answering emails:
Email is difficult. It's the best thing ever invented and the worst thing ever invented. I get a lot of emails from people. Most people say, "Did you read my email?" No, never. I don't read them until somebody calls me and makes me. Then I look at it, I scan it, but I still miss it sometimes, and then a year later I wake up thinking it was from this year. I don't want to use my hands for email.
On organization:
I'm not one of these people who doesn't print things out. I print things out all the time. I have this obsession with beautiful financial records. Most people who are self-employed have been audited a few times. The last time I said, "Thank God, you called me," and the lady said, "You're glad?" I said, "I did all this work for you." I've got colored folders, labeling. My bookkeeper is a Virgo, so she's totally into it. They said, "Give me all your cash receipts." And she said, "This is extraordinary, it adds up perfectly to the penny." 
On her Twitter obsession:
I love Twitter and staying up very late. You can see me on Twitter really late. Like, when I start on Twitter, you've got America and then everybody from Brazil is on there. Stay on a little longer, Turkey shows up. And if you really stay up, India comes. I used to get like 35 magazines. Now, I go on Twitter.
This interview has been edited and condensed.