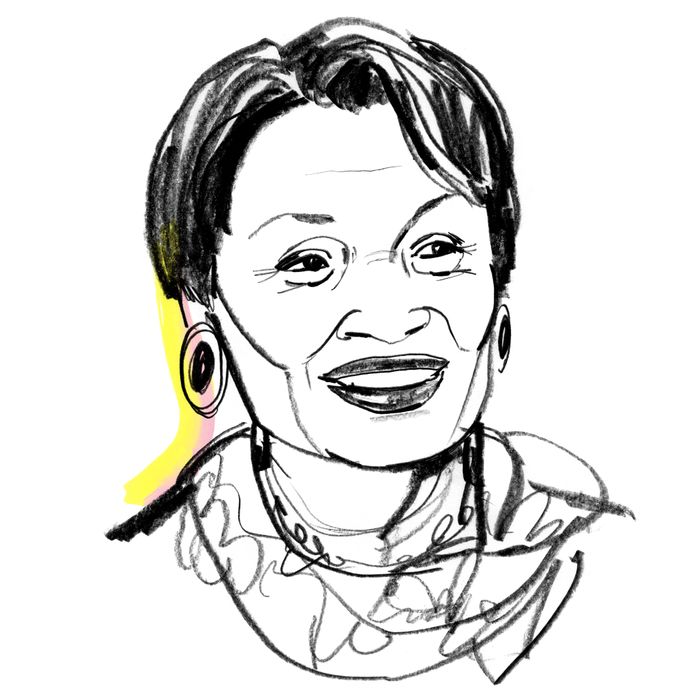 Andrea Stewart-Cousins
Illustration: Lauren Tamaki
Andrea Stewart-Cousins is the first female senate majority leader in New York's history, and she had to fight hard for it. Last year, in a battle with Governor Andrew Cuomo, Stewart-Cousins helped disband the notorious Independent Democratic Conference (the IDC), eight senate Democrats who had helped keep Republicans in control of the chamber for nearly a decade. But the leader hasn't had a typical political operative's career. A single mom, she worked in sales, was a teacher, and got a degree in journalism before finding herself in city government. Now, Stewart-Cousins presides over the largest senate majority ever, with the most women members. She lives in Yonkers, and doesn't show up at work without one of her signature scarves. Here's how she gets it done.
On her morning routine:
I have my coffee, and I generally meditate for least 15, 20 minutes, grounding myself. I know my day is gonna be pretty … interesting, so I like to start from a calm space. My daughter will call me on her commute. I usually don't eat, but if I do eat breakfast I will try and eat oatmeal with blueberries.
On not living in Albany:
I live in Yonkers, and when I go to Albany I have a room in a hotel. When I won my election, someone told me, "Don't get comfortable in Albany." I spend technically about half the year up there, but once session is done for the week I come right back down to the district, and it helps me to stay focused, frankly, on why I go there. Albany would be lonely, but my typical day doesn't end at five. I'm usually out or in my office pretty late in the evening, so I'm just as happy to get back to the room and prepare for the next day.
On protesting for better childcare as a single mom:
City government was trying to take away subsidies for women who needed help with childcare. I was in my early 20s — I remember going down to city hall and rallying with other parents and advocates. Ultimately we did not win. Childcare is extremely expensive and it's why I continue, obviously, to advocate for as much as we can. It certainly hit me very hard when I was trying to figure out what to do with my 2-year-old. I was fortunate that I did have my mother to fall back on somewhat.
On realizing she wanted to be in politics:
When I was in journalism school at Pace University, the professor assigned me to cover Geraldine Ferraro's campaign on election night. She was the first woman who to be nominated by a major party, running for vice-president with Walter Mondale, and I think when I stood there with the election night unfolding, and with all of these reporters from all over the country talking to Geraldine Ferraro, that night planted the seed for me.
On her slow-burn career:
Am I ambitious? I'm committed. I'm committed to using the opportunities I have to do the things that I feel are important. I had a lot of different jobs, from customer service, sales, and marketing, to teaching journalism, that led me to public service, which, frankly, is the thing I was meant to do. From city government I went to county government. After serving with the mayor for four years, I said, right now I'm helping somebody implement their vision. If I'm elected on my own then I can implement mine.
Sometimes I'm underestimated, but once I began to believe in myself, it's just been about pushing through. We all have self-doubt and we all are afraid to take on certain challenges. But once you've decided that this is the right thing to do, then go forward with full confidence. So do I "lean in"? Yes. But some people want the job because oh, well, then you have power. Power was never what drove me. I've always wanted to work in politics so that I could govern.
On her signature scarves:
My friend was the first African-American woman to be elected from the city of Yonkers. I was the second African-American woman to be elected in the city of Yonkers. And invariably, people would confuse us, and they'd be embarrassed, and I'd be annoyed. She would wear a hat every day, and I was like, I'm not wearing a hat every day. That's not going to happen. So I started wearing scarves. Now I always have to wear a scarf because I've just gone on so long that if I walk into the place and I don't have one, then that's the only thing people want to talk about.
On finally disbanding the IDC:
In 2016, after the presidential election, people finally started understanding the importance of state legislatures. And when they looked at New York, they didn't understand what was happening. They saw that we had this bifurcated Democratic Party, and how difficult it was to get things that people felt should have been done, done — finally, it was like a light bulb went on. After we won the majority back in 2018, and I stood in front of one of the largest majorities in that chamber in history, with more women than had ever been in the conference, all of the fighting and the energy that had gone into that moment — it felt right. It felt like this was what we've been fighting for.
On often being the only black woman in the room:
As a black woman, as a black person, I've always felt I'm representing a lot of people. Whether I'm standing in front of a classroom or standing on a street, I know that people are going to judge a bunch of people by what I'm doing, what I'm saying, how I'm acting. I always know that. I project myself in a way that honors who I am: my legacy, my parents, my children, the people who sent me here. But I don't go to different places and act in different ways.
On what she does to relax:
I love to hang out with my kids and my grandkids. I like reading. I don't get a chance to do as much as I like because of my life. I like to unwind with puzzles. I don't watch much TV — I get stuck on the political channels, MSNBC and CNN and all that. I cook less because I'm pretty much an empty nester. I lost my husband in 2007, and my kids are all married and they have their own families. But I'm still the place where we gather for Christmas, Thanksgiving, Easter, all that.
On what she'd do with a night off:
I'd go to a Broadway show.