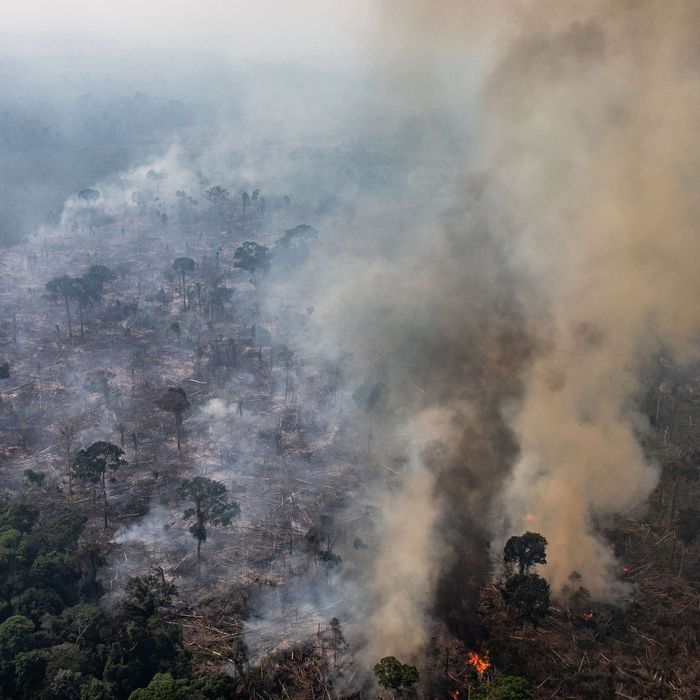 Photo: Victor Moriyama/Getty Images
The fires in the Amazon rain forest are still burning.
The extent of the forest fires in Brazil are stunning: NASA satellites have shared images of plumes of smoke all over the region, visible from space. According to their data, 2019 has seen the highest number of fires in Brazil since 2010 — more than 26,000 have been recorded this month, and more than 80,000 this year so far — and those numbers are more consistent with land clearing than with seasonal drought. There has been an 85 percent increase in fires since last year alone, and the latest surge was first reported three weeks ago. The fires are burning through several Brazilian states; Amazonas, a massive region in the northwest covered almost completely by the Amazon, declared a state of emergency on August 9.
But it's difficult to determine exactly how much of the forest has burned. Over the last 50 years, National Geographic estimates that at least 17 percent has already been lost; the recent surge threatens to bring that percentage to a tipping point, somewhere between 25 and 40 percent, that scientists fear cannot be reversed. Brazil's National Institute for Space Research has recorded more than 9,500 new fires since August 15 alone, and the BBC reports that 2,500 were still actively burning as of last Thursday. Even Brazilian president Jair Bolsonaro, who has downplayed the severity of the forest fires with a number of statements, has sent in 44,000 troops to help put them out. Scientists fear that at current rates of deforestation, the tipping point could be reached in as little as 15 years.
But even as the international community puts pressure on Bolsonaro to contain the record number of fires nationwide, it seems increasingly unlikely that he will act with the necessary urgency. Instead, he has grown preoccupied with petty squabbles, starting a feud with French president Emmanuel Macron and rejecting an offer by G7 world leaders of $22.2 million in aid to fight the fires. (He later reversed and said he would consider the donation if Macron apologized for saying that he had lied about his commitment to the environment.) He also "liked" a rude Facebook post about Macron's wife, Brigitte — meanwhile, there are still two months to go in the Amazon's dry season, and fires will continue.
And though Brazil is home to the largest portion of the Amazon, it's not the only country battling an increase in forest fires. Nearby Bolivia has also seen a devastating rise in blazes, which experts estimate could take up to 200 years to recover from.
Here are five ways to help put out the fires in the Amazon.