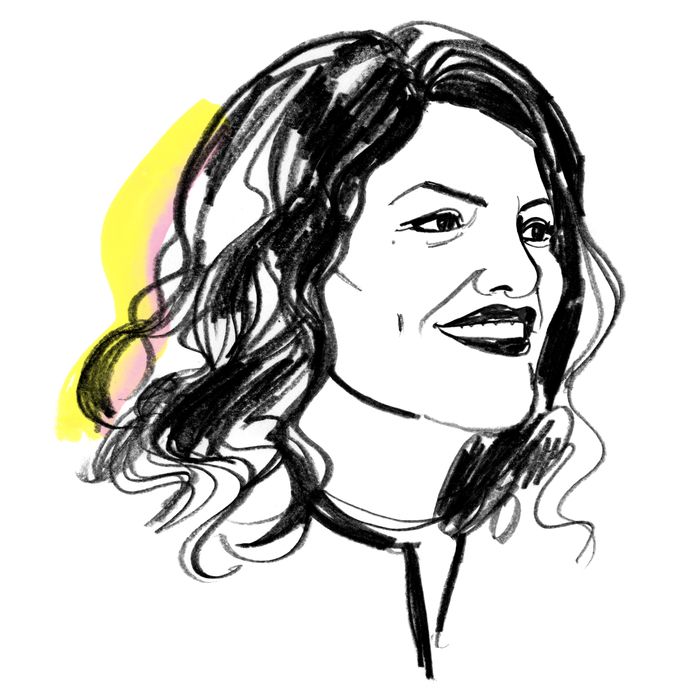 Rashida Tlaib.
Illustration: Lauren Tamaki
Rashida Tlaib just finished reading The Subtle Art of Not Giving a F*ck, and what an appropriate choice for the woman who promised to impeach Donald Trump on the very day she was inaugurated with a certain infamous expletive. The Michigan representative, one of the first Muslim women in Congress, might be the fiercest of the progressive freshmen "Squad," refusing to hold back when it comes to taking on the president, or sparring with the Democratic Party Establishment on issues like immigration. Here's how she gets it done:
On splitting her time between Detroit and D.C.:
It's a bit of happy chaos. When I'm in D.C., I take the 26-minute walk to the House in the morning for meetings. When I'm in my district in Michigan, I'm with the boys first, and then I'm usually sprinting off to whatever outreach work I'm trying to get done. I miss so much from home when I'm in D.C., restaurants, and outdoor spots like Chandler Park and Belle Isle.
On being told she needs to "wait her turn" to change things in Congress:  
I say, "Is there a line?" I don't wait my turn, obviously. I'm more of a mother, a social worker at heart. There's a lack of urgency in this institution. I really want to change people's lives immediately.
On meetings with her mentor, California congresswoman Barbara Lee:
I meet with her every month. We're to a point where we can kind of look at each other, and I know what she's thinking. She gives me great ideas. One of the things I love is Congresswoman Lee understands why I'm angry. And she allows me to embrace it and to use it for good.
On showing emotion at work:
I've cried in the legislature. I think my residents have seen me be me, and be real. Every time I even talk about the child I saw, who could not have been more than 4 years old, when I took a trip to a border detention center in Texas with a congressional delegation, I just start crying again. The image won't go away.
On being tweeted about by Donald Trump:
It fuels me when my residents say, "Be careful, you're going to take a lot of heat for this or that." I say, "Well, you didn't elect me to function from a place of fear. You wanted someone who would hit the ground running." But they don't like it when he tweets about their member of Congress. Especially because he's not focused on my policy agenda. He's focused on my ethnicity, my background.
On what she does to relax:
I love going to my brother's and just hanging out. When I do, we have a rule: My brother always wants to talk to me about what's going on at work. When I say, "Okay, last question," then we have to stop. I want to talk about regular things, like everybody else.
On unwinding at the end of the day:
I don't really unplug when I'm in D.C., because it's mostly late nights and early mornings. I definitely watched the final season of Game of Thrones this year, which my staff loved because they're all obsessed with it. As for books, I just finished The Subtle Art of Not Giving a F*ck, by Mark Manson.
On bringing her sons to Congress:
My eldest, he spent the whole day with me yesterday. And he wanted to stay — they were talking about divesting from fossil fuels. Chairwoman [Maxing] Waters was in the room. And she always hugs him. He's going to be 14 soon, and he's like, "Oh my god, she's always hugging me!" I said, "Well, you know moms, let them hug you." He turned to Chairwoman Waters and said, "If I let you hug me, can I stay for this meeting?" People think I'm joking when I say he's my mini adviser.
On what comes next:
Whatever happens between now and 2020 won't be about my career or my future, it'll be about ensuring I've made a meaningful difference in the lives of residents there, that I did everything I could to be proud of my work on their behalf.