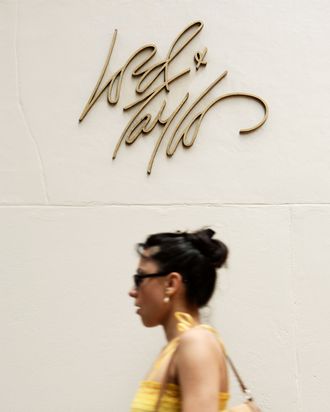 Photo: Adam Rountree/Bloomberg via Getty Images
Today, the Silicon Valley–born clothing-rental service Le Tote reached an agreement to buy Lord & Taylor, the famous department store. The new guard is buying the old guard, it seems.
The $75 million deal means that Le Tote will operate Lord & Taylor's 38 stores and e-commerce business, and will bring its techy magic ("data, proprietary technology, and innovation," per a press release) to the operation. Le Tote gives members a monthly tote of personalized clothing they can keep or return. It's cheaper and less brand-driven than services like Rent the Runway; subscriptions start at $79 a month. The Lord & Taylor acquisition will give members thousands more options to rent, according to Le Tote's homepage.
Lord & Taylor, formerly owned by Hudson's Bay Company, has been hurting recently. The iconic flagship store in Manhattan was sold to WeWork for $850 million, after 104 years on Fifth Avenue. Could this be the beginning of a trend — start-ups snatching up traditional department stores? Possibly. Many department stores, such as Barneys New York, have been struggling for years. Meanwhile, there's been an explosion of rental services. Rent the Runway is valued at $1 billion, while Le Tote is estimated to be worth around $180 million. Even Ann Taylor and Bloomingdale's have gotten in on the rental craze. There's a retail apocalypse going on for stores, but rental services are booming. 'Tis the new wave.