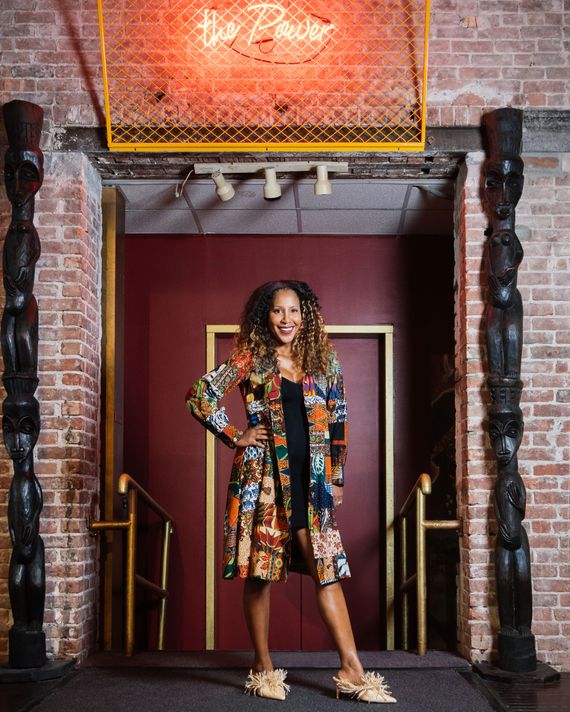 Founded in 1968 by Dr. Barbara Ann Teer, the National Black Theatre in Harlem has hosted performances by everyone from Nina Simone to Maya Angelou. After Teer's passing in 2008, her daughter, Sade Lythcott, took over with a plan to build up the space as an incubator for creatives of color.
Lythcott has always been mindful of her family legacy. "I honor my mom by creating rituals around our ancestors and their art and activism practices," she says. "They toiled the fields and planted the seeds for NBT to be possible."
As CEO, she's responsible for launching new programs and developing partnerships for NBT. She has worked on redeveloping the block the theater sits on in order to create a state-of-the art community space. And in her spare time, she's the chair of the Coalitions of Theatres of Color and serves on the national board of advisers for ArtChangeUS. (She has also won numerous awards for her writing and production work, in case you weren't already feeling unaccomplished enough by comparison.)
The Cut caught up with Lythcott — a former fashion stylist — at the theater, where she talked about her eBay finds, her love of Chanel, and how she supports artists of color.
On her everyday shoes: In the summer, I can't live without my Rick Owens Birkenstocks or my Brother Vellies Burkina Slides. And then when it gets colder, I have these clogs that my husband brings back when he visits his family in Austria. If you want a similar style, they look like the Brother Vellies Greg shoes. They're easy to slip on and off, and I'll wear them running to work or chasing after my toddler. Best of all, they're chic enough that I don't need to change for evening events.
Shop Birkenstocks
On afterwork events: If I'm going to speak at an event, sit on a panel, or go see a show with colleagues, I won't change what I'm wearing. Such a big part of what I do and speak about is living in your radical truth and helping others to find comfort around their authentic selves. I want the young girls and women who see me to be able to relate to me in some way and to know that the distance between us is never far.
That said, my go-to is anything by Mara Hoffman. Mara has been my eternal fashion love since the day we met on the dance floor at the Fat Black Pussycat. She is a goddess and makes clothes for women to feel just the same.
On what she wears to important meetings: I'm kind of embarrassed to admit this, but I use to be a Chanel junkie — literally addicted, like my husband had to have an intervention. But beautifully made clothes last forever and get more special with time. There's something about the brand; when I put on a dress, sweater set, or coat, it makes me feel invincible.
I also have a pretty big collection of unique vintage and handcrafted jewelry and accessories from around the world. They're mostly from Africa, and I find that whenever I wear or layer those pieces, they're a showstopper.
On supporting black creatives: The National Black Theatre is the oldest continually run black theater in New York, and our mission for over a half-century has been to develop, support, and incubate artists of color and the communities in which they live, work, and serve. As a result, not only does NBT produce powerful shows but we also support young entrepreneurs and organizations such as Harlem Fashion Week for the last decade. It's been a way to showcase and give opportunities to incredible designers of color.
On a personal level, I love supporting and wearing black designers like Duro Olowu, Aurora James of Brother Vellies, Public School, and Ozwald Boateng. I'll also collect pieces by smaller brands like Willi Smith, Patrick Kelly, and Montgomery Harris.
On her style philosophy: Life is filled with so many triggers that can create anxiety or impostor syndrome, so I choose to focus on what I can control, like what I wear. If your first thought is anything other than how you want to feel, you unnecessarily open yourself up to caring about other peoples' judgment and opinions. That leads to deep insecurities or false confidence, and it's a mask at my age that I don't care for.
On what she wears when she's running late: I'll throw on a Mara Hoffman dress or my Alexander Wang knitted sweats with a tee from COS.
Shop Mara Hoffman Dresses
On her style evolution: I was raised in a community of artists, where creativity and imagination were heralded as superpowers. My medium of choice has always been clothes, and my all-time-favorite fashion superhero is Pat Field. She uses her superpowers to create a meaningful space for the voices, communities, and designers at the margins of mainstream fashion to have culture-shifting influence, access, and agency. When I was growing up, her "dragtastic" stores were my mecca and helped me articulate my unique space in the world from my teenage years into my 30s.
My style is constantly evolving. When I was in my 20s, I was all about the adrenaline rush of flea-market and thrift-store finds. In my 30s, as a stylist, I began to understand the power and magic of fashion, falling in love with brands like Marni, Margiela, Alaïa, and, of course, Chanel. Now that I'm in my 40s and I'm a mom and CEO of NBT, I place a lot of value on comfort, sustainability, and Pat's effortless articulation of mixing of high and low.
On the last three things she bought: I live for a good sale, so I bought a pair of Karen Walker sunglasses at Barneys Warehouse. I'm also constantly looking through department-store websites for discounted cashmere — mostly sweatpants but also cardigans and blankets. And I'm currently obsessed with Blackamoor sets and Cartier gold-bar charms, so I've been searching for them on eBay.
Shop the Story
If you buy something through our links, New York may earn an affiliate commission.