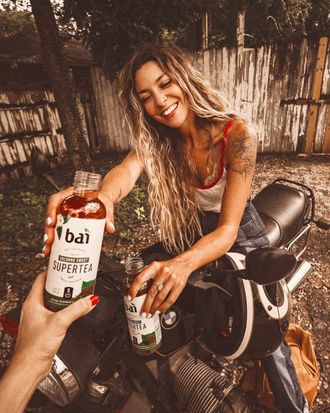 Photo: tifforelie/Instagram
With every passing day, a new influencer finds themselves embroiled in incredibly absurd drama — nude vegan bloggers are forced to respond to backlash that they're faking their off-the-grid lifestyle, while Instagram models face accusations that they only pretend to know how to paint. The most recent example does not stray far from the trend: A lifestyle blogger has come under fire for posting artsy Instagram photos of herself after getting into a motorcycle accident.
It's just … let's just jump in.
Who is this blogger?
Her name is Tiffany Mitchell — @tifforelie on Instagram — and she's a Nashville-based lifestyle blogger with an Instagram following of 211,000. (That's certainly not a small following, though it's nowhere near, say, Rawvana, who had 1.3 million Instagram followers when she was accused of the worst possible thing for a vegan: Eating fish.)
While Mitchell writes on her website that she loves "all the things," she emphasizes her love of "people" and "styling."
And she had a photo shoot … after a motorcycle accident?
Let's state the basic facts right off the bat: On July 31, Mitchell posted an Instagram slideshow of herself after getting into a non-fatal motorcycle crash. Photos were taken. And, for being captured after what was presumably a terrifying the experience, the pictures — which bear Mitchell's signature filter and appear to be art-directed — are eyebrow-raising. (Mitchell has since deleted the post, but BuzzFeed News, which first reported the drama, grabbed screenshots.)
In a lengthy caption that accompanied the photos, she described the "scary, magical series of events" of that day. On her motorcycle ride home from taking photographs with her friends, she "misjudged a curve," went off the road, and hit the pavement. (During the journey home, Mitchell's friends were apparently driving alongside her and photographing her.)
"I was in absolute shock laying on the side of the road," she wrote in the caption. However, she says she wasn't without help for long: She had her friends right there with her and an ambulance arrived in ten minutes. Though she says she escaped without any life-threatening injuries, she writes the accident brought back painful memories of losing a partner to a motorcycle accident three years ago.
All judgement and skepticism aside, that timeline is missing one key point: when this bizarre photo shoot that took place. Given that the photos show Mitchell on the ground with a friend (and an immaculate bottle of Smartwater) by her side, they were presumably taken sometime between the crash and the ambulance's arrival.
Did she think these would be received well?????
Apparently? While quite a few of Mitchell's followers replied wishing her a fast recovery, she also received a flurry of negative comments questioning why she found it appropriate to take and post pictures of the traumatic experience.
"Who DOESN'T take arty photos in the midst of a motorcycle crash, amirite?" one person wrote. Another responded, "You had an accident and still u were taking photos," with an eye-roll emoji. And then, the accusations that she staged the crash started to roll.
Okay, yeah — do people think the crash actually happened?
Not everyone! Here are a few, uh, suspicious details in the photographs:
• Her propped-up motorcycle
• The fact that Mitchell's friends just so happened to be driving alongside her when she crashed her bike
• Most importantly: the untouched bottle of Smartwater with the logo facing toward the camera (and we all know bottled-water brands are horny for good ol' product placement)
In a statement to BuzzFeed News, Mitchell denied that she would ever "turn a very important personal story like this into a brand campaign."
She continued: "All motives for taking the photos and sharing them along with the details of the experience were good."
Has Jennifer Aniston responded?
As of now, neither Smartwater nor any of their hydrated faces have publicly responded.