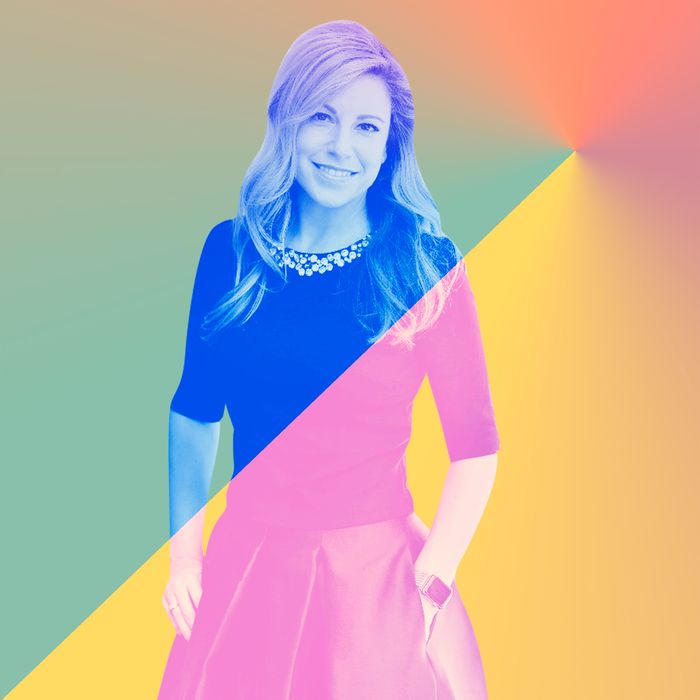 Photo: Courtesy of Amore Pacific
Jessica Hanson might have an MBA from Fordham, but she credits the two summers she worked at In-N-Out Burger for her strong work ethic.
"I had to go through eight interviews before I got the job," remembers the president and general manager of AmorePacific U.S. "I ended up being named an all-star, which meant I got to travel all around around California, opening new locations and training other new employees. It was my favorite job (before my career)."
Hanson grew up wanting to become an architect, but shifted her major toward business in college. That led to internships at the Wall Street Journal, and a job at Barron's upon graduation. The MBA came next, then she joined Coty, where she worked on developing a skin-care line for The Healing Garden. After that, she worked at L'Oréal Paris, Sephora, Perricone M.D., and in 2017, she joined AmorePacific.
"Many beauty conglomerates today have an acquisition strategy, but we've never been that way," she says. "We're almost 75 years old and we've created more than 30 brands." It's an impressive stable, which includes Laneige, Sulwhasoo and Innisfree. The latest export is Primera, which harnesses seeds' nutrients the moment they germinate, or sprout, capturing their peak potency. The line caught Hanson's eye during her first visit to AP HQ.
"I thought, This is clean beauty. It was perfect for the U.S., especially given how the trend has exploded here. K-Beauty is so much more than what people know, there's much more depth to it. My mission is to educate that consumer."
Hanson spoke with the Cut about her frustration with unresolved email threads, her serious fragrance habit, and the one tidy tip that can we can all incorporate into many aspects of life.
What's your definition of beauty?
Looking in the mirror and feeling confident about who you are.
What do you think when you hear the term "clean beauty"?
An important movement, however at the moment I worry that the consumer is overwhelmed.
What is the opposite of "beautiful"?
Dishonesty.
What is your morning skin care routine?
Mamonde oil to foam cleanser, AMOREPACIFIC Vintage Single Extract Essence, Sulwhasoo First Care activating Serum, Innisfree fresh squeezed sheet mask (honey and coconut are my two favorites), AMOREPACIFIC Time Response Eye Reserve Cream, AMOREPACIFIC Time Response Skin Reserve Cream and finally finish with just a dab of Laneige Lip Sleeping Mask in Grapefruit (yes, you can use it in the daytime!)
What aspect of your beauty routine tends to be neglected?
I am too impatient to use an eye makeup remover (although I have three).
Mascara of choice:
Milk Makeup Kush.
Fragrance of choice:
This is hard (I own over 100) Goutal Rose Pompon gets me the most compliments, but Tom Ford Santal Blush brings me the most comfort.
Preferred sunscreen and SPF #:
Supergoop Dry Oil Spray SPF 50.
Bath or shower?
Shower, with Dove Rose Oil Shower Mousse.
Scented candle of choice:
Anything Tocca.
What discontinued product do you mourn?
Tom Ford White Patchouli.
What beauty product still needs to be invented?
A pimple predictor.
What was your first beauty product obsession?
Lip gloss. I was 9. I got it in my Easter basket then I took it to school to share with my friends and my teacher took it away (my fierce mom got it back).
Daily carry-all of choice:
Louis Vuitton Artsy in Navy Blue.
Any hidden or secret talent or skill you possess?
It's not such a secret, but I can dance pretty well.
What was the most recent interesting conversation you had?
How running a company is so rewarding and incredibly frustrating at the same time, and it was with Charlotte Cho.
What annoying thing can put you in a bad mood?
An unresolved email exchange with many back and forth responses. My rule is that if there's already been three replies, pick up the phone or have a face to face conversation.
Favorite smell?
Jasmine flowers fresh in the morning after their evening peak.
What is the biggest tip you can give that will change people's lives? Good, fast, cheap. You can only have two, ever. So you must make your choice on what you will sacrifice. If it's good and fast, it won't be cheap. If it's good and cheap it won't be very fast. If it's fast and cheap it won't be very good.
What is your movie snack?
Popcorn with Peanut M&M's put inside. That sweet and salty combination is the best.
What do you foresee as the top beauty trends for 2020?
Healthy lashes and hair. I think new innovations are more accessible in these areas and it's important to women (and men) of all ages.
What product in your domain is misunderstood and should be a best seller?
Ampoules. They're like the superfood of serums, but they're hard to dispense and expensive, so most haven't tried them. But once people do, it's a game changer.
What product is currently your favorite (understanding that this could change all the time)
Sulwhasoo First Care Activating Serum. This little miracle solves almost every problem: severe dryness, irritation, soothes breakouts, smoothed uneven texture. It's no wonder over a trillion bottles have been sold globally.
If you won the Power Ball tomorrow, what are the first five things you would do? (after, of course, donating the majority of it to your top charities…)
First, buy the private jet, then go on a real vacation touring the One and Only resorts around the world. I would invest in a trust fund for both of my children to attend any school they wanted for higher education and buy their first home. Then I would buy the perfect seaside home for my parents so they could truly enjoy retirement. Last, I would hire a personal stylist for my entire family so we would have endless fashion options.
What do you want?
Less judgement and equal treatment for women in leadership. Just because more women are at the C-level and leading companies doesn't mean they are being treated fairly and equivalent to a man.
If you buy something through our links, New York may earn an affiliate commission.