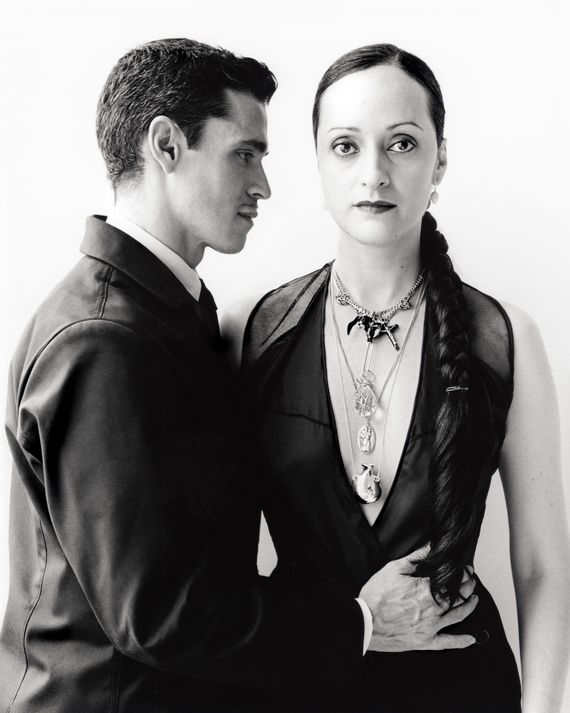 Photo: Richard Phibbs / Trunk Archive
It's fitting that Isabel Toledo, who passed away yesterday, will be remembered as the designer of the lemongrass-yellow coat and dress that Michelle Obama wore to the 2009 inauguration of her husband, President Barack Obama. Like the First Lady, Isabel Toledo was a woman who thrived as one half of an inspiring couple, but whose talents were wholly her own.
Together with her husband, the artist and illustrator Ruben Toledo, Isabel was a force for creativity in New York City. From the launch of her debut collection in 1985, she was a designer's designer, a master of what she called "liquid architecture." Isabel took an education from FIT and Parsons and a stint interning at the Met Costume Institute under Diana Vreeland and developed a unique fashion vernacular, a kind of mystical geometry that allowed her to transform two-dimensional cloth into kite-like dresses. In 1997, choreographer Twyla Tharp was so inspired by Isabel's surreal, amorphous Hermaphrodite dress that she asked her to collaborate on costumes for the American Ballet Theater.
Isabel's story is woven in love: her love of Cuba, where she was born in 1960; America, her adopted country; her family and friends; her craft and the devoted artisans who worked with her. But her love story with Ruben plumbs a depth of the heart with no end. It is a story of such spiritual devotion and mutual understanding that in the over the thirty years I have known them, I never once saw them apart.
It has always been so. Isabel's autobiography, Roots of Style: Weaving Together Life, Love, and Fashion, published in 2012 and illustrated by Ruben, tells her story of growing up in Cuba, of what it meant to arrive in this country as an immigrant, and of meeting Ruben in high school in New Jersey where Ruben's family had landed, also after immigrating from Cuba. She writes, "Love was the guiding light that introduced me at a young age to my husband, the artist and illustrator Ruben Toledo, who fell in love at first sight with a shy dreamer of a girl. I fell in love with Ruben's art first. It took another four years for me to reciprocate and realize that this kid was the love of my life. While I was busy playing, sewing, dancing, and growing up, I discovered that Ruben was the missing link, in the best possible sense of those words. Love is often the missing link in life. Once that element flowers, the rest of life seems to flow along."
Isabel and Ruben brought their youth and talent to a city rife with artists who became friends: Andy Warhol, Keith Haring, Kenny Scharf. They befriended performer Joey Arias at Fiorucci's, the store Isabel describes in her book as "the daytime headquarters of Studio 54." Designer Patricia Field bought Isabel's designs for her store. Bill Cunningham chronicled everything they did up until his death. And Kim Hastreiter, founder of Paper magazine, championed their talent from the very beginning and remained one of their closest friends.
Always independent, Isabel was dubbed part of a 'new wave' of fashion by the International Herald Tribune's Hebe Dorsey, along with John Galliano, Romeo Gigli, and Marc Jacobs. In 1998, she decided to get off the hamster wheel of producing fashion shows, concentrating on her own diverse creative endeavors with Ruben. These included designing costumes for Broadway, costumes and sets for ballet, collections for Anne Klein, and even shoes for Payless. Isabel was the winner of the Smithsonian Museum's Cooper-Hewitt National Design Award for Fashion in 2005, and the Couture Council Award for Artistry in Fashion in 2008. Her work was cataloged in two shows at FIT: "Toledo/Toledo: A Marriage of Art and Fashion" in 1997, and "Isabel Toledo, Fashion from the Inside Out" in 2009.
But the burning light in Isabel's life was always Ruben. She dedicated her book to him with the words, "FOREVER RUBEN who is the warmest part of me I have no control over." The last time I saw them together, they were leaving a performance at the Metropolitan Opera. They had said their good- byes to everyone, and in a flash they were out way ahead of all of us, walking arm in arm, in perfect step, two magnificent figures parting the night on their own very private path.