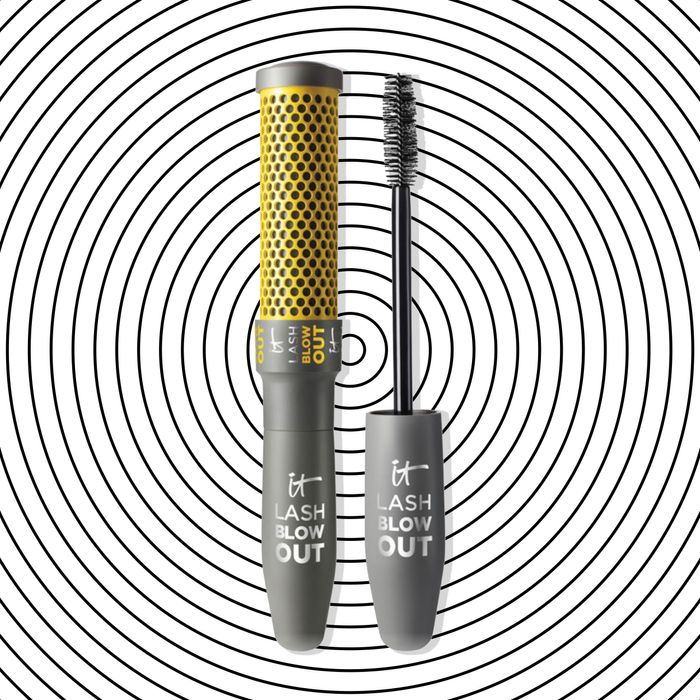 Photo: Courtesy of the Retailer
Remember when everyone realized that your scalp is still technically skin even though it lives on top of your head and not your face? It probably deserves some skin care, too. Similarly, now the world is taking a moment to pause and realize that eyelashes are still technically hair even though they live on your face and not your scalp, so why not treat them to a little styling?
This realization is the general gist behind Lash Blowout, a new mascara developed by two beauty brands from different sides of the beauty spectrum: IT Cosmetics (cosmetics, skin care) and Drybar (blowouts, hair care). Both brands' founders, Jamie Kern Lima (IT Cosmetics) and Alli Webb (Drybar) met in the middle to create a product designed to make your lashes feel like they showed up at a Drybar appointment, sat down with a glass of Champagne, and had someone blow them out until they were bouncy, considerably more voluminous, and ready for a night on the town.
Instead of anthropomorphized eyelashes and actual heat, this is all achieved through a unique wand inspired by Drybar's iconic Half Pint round brush, complete with lash-catching and separating microspheres that get you that post-salon lift, dipped in a formula infused with hair care ingredients, like golden-child biotin. The Cut recently got the two founders in one room for a quick chat about the collaboration, the hair on your face, and the weird, wild world of QVC.
Everyone loves a good meet-cute. Can you tell me about yours?
Alli Webb: Actually, the first time we met was through QVC. Jaime was a bit of a veteran at the time and I had just started; she was there around the clock. It was so many years ago now, but we became buddies. We'd hang out at the Q and talk shop.
Jamie Kern Lima: You meet a lot of great founders backstage at the Q.
AW: It's like Vegas.
JKL: No windows, no time … But you're live 24/7 with all this sales pressure. You really get to know people well because no one is on in the green room; it's the middle of the night and you're just exhausted.
AW: You all get a little stir crazy, so you bond from letting it all hang out.
What was it about the other's brand that made you know this was the right partner to collaborate with? Where were the overlaps in the Venn diagram?
JKL: I love Drybar products. For our mascara, we wanted it to get that crazy volume and lift and convey that whole effect and feeling of a blowout. The biggest question we're asked from our customers is, "How do I get more volume in my lashes," so I felt like partnering with Alli and having Drybar technology in the formula could be really good.
But it was even bigger than that. L'Oréal acquired IT Cosmetics and they also have a lot of great hair brands, but we've never collaborated with anyone in our 11-year history, and I wanted to partner with a female founder that I felt was kicking ass. This is off-topic and way too long, but women are taught to compete for forever, and that scarcity mindset is such a lie. For me, it was about collaboration instead of competition. Also, she'll reject a million formulas, and that's how I am. So, I figured that if we get to a point where we both like it? It'll be good.
AW: Historically, we've never done anything outside of hair. We've been asked by women to do makeup or manicures while they're sitting at Drybar, and while appealing, I've always felt very strongly that we do one thing, and we do it really well, and that's it. But when it was Jamie coming to me with this new, fun idea and her great company, it was a very chocolate-and-peanut butter good combo of coming together. My answer is usually no, but I think I said yes right away. I only realized while we were doing press a few weeks ago, Oh yeah, lashes are hair, so really, I'm well within my range of only sticking to hair. It's makeup, but about the hair on your face.
JKL: We should do a brow thing next … a brow blowout.
AW: Big brows are still such a thing!
What was the most surprising thing about the development process? Was anything way easier or harder than usual?
AW: There was nothing easy about it. We were just talking about how many iterations we went through and it was over 50. Obviously, Jamie has already come out with so many great mascaras so it was about topping that and infusing what we're doing to get huge, blowout lashes, and that was a tall order. It took a long time to get there. As a matter of fact, Jamie and I sat down for lunch a couple months ago and I think she could just sense that I wasn't loving anything. She was like, So what do you think? I was so nervous because I knew I was going to have to tell her that I didn't think it was there yet.
And she was like, I knew it! We went back to the drawing board and came up with something amazing. There's nothing easy about any formula. I think you'd agree with that …
JKL: It's easy to launch crap.
AW: I've killed products as we're literally on set and we're filming them as promotional videos and it goes haywire on set and I'm like Oh shit, we just can't launch this. I know you're the same way; it's so much more trouble than it's worth going through with it because you have a deadline to meet. If it's not ready, it's not ready.
JKL: For me, one of the most surprising and best things was the power of partnering with someone who was able to not be a people pleaser. Back when I was launching the brand, Sephora, Ulta, and QVC all said no for so many years. Today we're blessed to have partnerships with them and to be a top brand in their stores, but once you finally get in you're like, Okay, I want them to be happy. I kind of learned to disappoint them if they would ask for a certain product that I knew wasn't right for the brand. And it's hard to say no. I feel like women are raised in this weird way to be people-pleasers, and when you get over that you step into your power.
So when Alli hated it … or it wasn't right … hate's a strong word [laughs].
AW: I don't if I hated it. I didn't love it …
JKL: It was a gift, you know what I'm saying? Because the worst thing she could do was say that she's onboard with something that's not as right for her.
If both of you had another opportunity to work on a beauty product out of your usual realm — so hair care for Jamie and makeup or skin care for Alli — what would it be?
JKL: You know what I would love? I'll turn to you [Alli]. A scalp-filling powder that absorbs some oil, but also deposits color. I have a receding hairline on both sides and I'll fill it in with a shadow but a lot of times, it flakes.
AW: We have a brown dry shampoo?
JKL: But I have skin with no hair. So I need to disguise a scalp that has bald patches. That's really sexy, right? So a fill-in powder that doesn't flake but is volumizing in a weird way too. What would you call that? I don't know but that's what I'd make.
AW: Does it have to be something crazy? Like how I've always wanted blue eyes? Could you figure out something that could make my eyes blue? That's not a color contact? I love light eyes like yours …
JKL: Why?! My husband is from Brazil and has brown eyes and my daughter has brown eyes and I feel like brown eyes sparkle more …
AW: But you can like see through to your soul with your light eyes. Besides wanting blue eyes, I like making my dark eyes even darker. I always line them out, so bring on more dark stuff. I get comments on my eyes all the time, and I'm like really? Don't you wish they were blue? [laughs] Well, you always want what you cant have. The grass is always greener.
JKL: Thats what it is. I want curly hair because I have straight flat hair.
AW: Me too … but if I had straight flat hair, Drybar wouldn't exist! And if you didn't have rosacea, we wouldn't have IT Cosmetics either!
JKL: That's right! You never know where what you have will take you.
If you buy something through our links, New York may earn an affiliate commission.