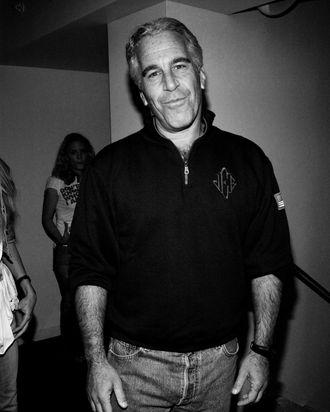 Photo: Neil Rasmus/Patrick McMullan via Getty Images
More than a dozen women who say they were victimized by convicted sex offender Jeffrey Epstein spoke at a hearing on Tuesday morning. CNBC reported just ahead of the hearing that some of the women would be testifying for the first time about the abuse they suffered at the hands of the enormously wealthy and well-connected money manager, who died by apparent suicide in his jail cell earlier this month. This hearing marks the first time Epstein's accusers were able to speak about his death in court.
Epstein's accusers detailed abuse allegations and vented their frustration over the catastrophic failure of the courts to deliver justice thus far, many of them verging on tears as they testified. One woman, Courtney Wild, who says the influential financier abused her when she was 14, called Epstein a "coward" for denying her and others the chance to confront him in court. Wild told the court, "I feel very angry and sad. Justice has not been served in this case." The Washington Post reports that another woman named Chauntae Davies, who says that Epstein raped her over a period of several years after enlisting her as a masseuse, told the court, "It took me a long time to come forward. Every public humiliation that I endured, I have suffered, and he has won." Several women chose to keep their identities anonymous, and were referred to as "Jane Doe."
Several women reportedly addressed prosecutors who were present at the hearing, encouraging them to continue investigating Epstein's employees and alleged accomplices, according to the New York Times. Many also spoke of being revictimized by their abuser's suicide. One woman said, "It felt like new trauma all over again." Others emphasized that a sense of solidarity with those who had also been abused by Epstein motivated them to appear in court on Tuesday. Actress Anouska De Georgiou said, "I am every girl he did this to, and they are all me. And today we stand together."
According to NBC News, one of Epstein's accusers said she almost died after Epstein attacked her. "He took me by the wrist," she said, "I was searching for words but all I could say was please stop, but that only seemed to excite him more."
U.S. District Judge Richard Berman, who presided over the case brought against Epstein in July, scheduled the hearing last week so that the women could bring forth their accusations as prosecutors move to dismiss the sex-trafficking case for which Epstein was arrested, given his sudden death. "The public may still have an informational interest in the process by which the prosecutor seeks dismissal of an indictment," said Berman last week.
Gloria Allred, a high-profile attorney who is representing multiple Epstein victims, attended the hearing with several of her clients. On Monday, Allred told the Daily Beast, "We have not filed lawsuits for them yet, but we will be filing lawsuits for them soon." Attorney Brad Edwards, who has represented accusers of Epstein for more than a decade, was also present.
Several outlets reported last week that two days before his death, Epstein signed a will, filed in the Virgin Islands, that established a trust fund worth $577 million. According to CBS, this new will was expected to make it more difficult for Epstein's many alleged victims to collect damages from the deceased financier.
This post has been updated.