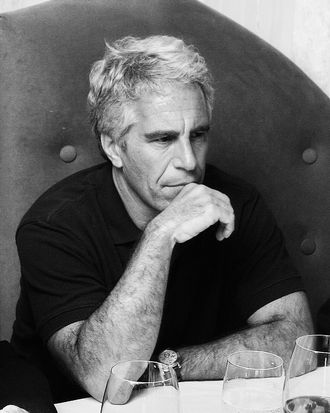 Jeffrey Epstein.
Photo: Rick Friedman/Corbis via Getty Images
In 2005, amid an investigation into his alleged illicit dealings with dozens of underage girls, Jeffrey Epstein appears to have placed an incriminating order on Amazon: three books apparently intended to supplement his knowledge of sexual servitude, according to a damning set of newly unsealed court documents.
The documents themselves come from a defamation suit filed against British socialite Ghislaine Maxwell in 2015 by Virginia Roberts Giuffre, who says Epstein recruited her into his so-called "sexual pyramid scheme" when she was a young teen and trafficked her to his wealthy friends thereafter. Giuffre contends that Maxwell acted as Epstein's madam, scheduling his "massage" appointments with a rotating cast of minors, and helped Epstein keep Giuffre as a sex slave. Maxwell has emphatically denied the claims, and the pair settled the suit in 2017. Today, however, a court ordered the documents' release, making a raft of explosive allegations — a 15-year-old held hostage on Epstein's island; an easily cracked code supposedly alerting him to an available 16-year-old — public.
There's a lot of headache-inducing information crammed into these 70-plus pages, including a red flag of a receipt that may cause you to shout OH COME ON as you sift through the docs alone in your room: an Amazon invoice for three how-to manuals on sex slavery and dominant-submissive relationships. According to the filings, Epstein purchased the following on September 4, 2005:
• SM 101: A Realistic Introduction, by Jay Wiseman, which "surveys the entire spectrum of consensual sadomasochistic practices from bondage, to spanking, to erotic role-playing, and more."
• SlaveCraft: Roadmaps for Erotic Servitude — Principles, Skills, and Tools, by "a grateful slave" with Guy Baldwin, which "dares to delve beneath the surface of D/S relationships and give us an intimate and revealing view from a rare perspective — that of a slave."
• Training With Miss Abernathy: A Workbook for Erotic Slaves and Their Owners, by Christina Abernathy, "a comprehensive manual for those who are, or wish to be, erotic slaves."
Amazon does log digital records of customers' purchase history, but according to the court docs, Palm Beach Police dredged this receipt (an image of which is included in the filing) from Epstein's trash. Maybe an oversight; maybe another indicator that outlandish privilege really can blind a person to the consequences of their actions.