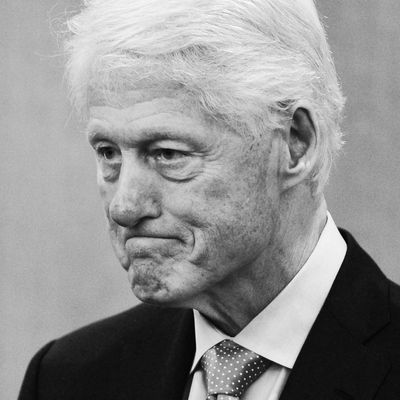 Photo: Artur Widak/NurPhoto via Getty Images
On August 14, a source told the Daily Mail that Jeffrey Epstein had a very strange painting of Bill Clinton hanging in his Manhattan home. It featured Clinton wearing a blue dress and red heels, reclining on a chair in the Oval Office and pointing at the viewer, Uncle Sam style. If you're wondering where on earth Epstein got such a thing, the painting was done by an Australian artist named Petrina Ryan-Kleid (a relative of the artist told the New York Post that he was unaware of a connection to Epstein).
The piece, titled "Parsing Bill," is an oil-on-canvas painting, and measures 42 x 42 inches. Prints of the piece are currently being sold on the online art gallery, Saatchi Art, for $120, but a source told the Post that the piece in Epstein's home was painted, and not a print.
According to the Daily Mail, a photo of the painting was taken by the associate of a woman who was visiting Epstein's home in 2012. She said she saw the portrait through an open door while walking through the house. That same year, the piece was exhibited at the New York Academy of Art's Thesis Show, where Ryan-Kleid received her MFA.
Ryan-Kleid, whose specialty is described as "realism with a focus on satire" on her Saatchi profile, also did a painting of George W. Bush called "War Games," which featured the former president sitting on the floor of the White House and playing with paper airplanes. According to the artist's LinkedIn profile, she now works as a marketing communications director for the Manhattan-based pricing software company Tarifica.
The questionable artwork does seem to have fit in with Epstein's bizarre decorating habits. And the fact that Clinton is wearing blue may be a reference to his scandal with Monica Lewinsky and her infamous blue dress. "It was shocking — it was definitely a painting of him," the source told the Daily Mail. "It was a very provocative, sexual picture. He was wearing heels, a blue dress and his hand was in a weird position."