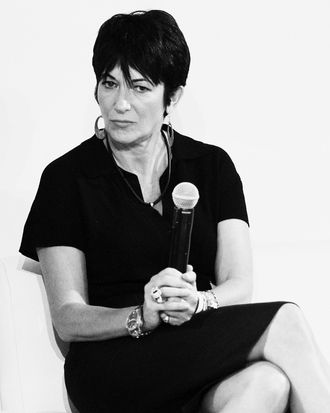 Photo: Laura Cavanaugh/Getty Images
It turns out Ghislaine Maxwell isn't the only British woman police have been been searching for in connection to alleged child rapist Jeffrey Epstein. A woman named Emmy Tayler, who was reported to be Maxwell's personal assistant and a core member of Epstein's entourage in the early 2000s, is being sought by prosecutors, according to the Telegraph.
Tayler, who is now 44 years old, was mentioned by witnesses in recently unsealed court documents, and her name appears multiple times on flight logs from Epstein's private jet, which was known as the "Lolita Express." She is said to be currently living in Oxford, England, and working as a voiceover actor. According to her profile on Voice123, she has recorded commercials for Cadbury and Lexus, among others.
Tayler is believed to have arrived to the States in the late 1990s with the hopes of becoming a model or actress. After meeting Maxwell in New York, she was brought to Florida to work for Maxwell and Epstein. One of Epstein's alleged victims, Johanna Sjoberg, testified that she was recruited by Maxwell while attending Palm Beach Atlantic University in 2001, and had met Tayler at Epstein's Florida mansion.
"At that point, I met [another woman], and she took me up to Jeffrey's bathroom and he was present," Sjoberg said. "And her and I both massaged Jeffrey. She was showing me how to massage." Sjoberg alleged that Tayler then took off her clothes, got on the massage table, and began showing her how to do "moves that he liked." Sjoberg also said that Maxwell referred to Tayler as "her slave."
The Telegraph reports that "there is no suggestion that she had any knowledge of Epstein's wrongdoing, and many of the court claims have been disputed," but prosecutors are looking to speak with Tayler as they continue to seek answers after Epstein's suicide.