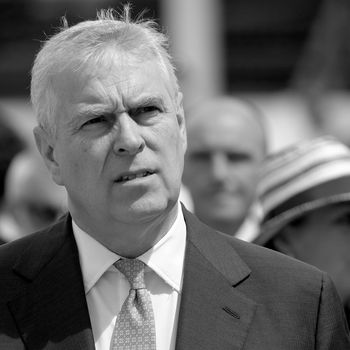 Photo: Ian Forsyth/Getty Images
In light of old video footage that recently surfaced of Prince Andrew spending time at Jeffrey Epstein's townhouse back in 2010, Buckingham Palace has been releasing statements addressing the prince's relationship with the deceased convicted sex offender. In a new statement signed by the royal himself, Prince Andrew says he is "eager to clarify the facts" about his connection to Epstein.
In the statement released on Saturday, August 24, the Duke of York says he met Epstein in 1999, but saw him "infrequently and probably no more than only once or twice a year." While the duke admits he had "stayed in a number" of Epstein's various homes, he claims that, "at no stage during the limited time I spent with him did I see, witness or suspect any behaviour" related to Epstein's alleged crimes that involved the trafficking and sexual abuse of underage girls.
Despite the royal family's efforts to quell Prince Andrew's role in the Epstein scandal, more allegations involving the prince continue to surface. Last week, a story came out that claimed Prince Andrew had been seen getting massaged by "two young well-dressed Russian women" in Epstein's Manhattan home, while another new report shows that the duke had been on a flight on Epstein's private jet with a former Miss Russia.
"I have said previously that it was a mistake and an error to see him after his release in 2010 and I can only reiterate my regret that I was mistaken to think that what I thought I knew of him was evidently not the real person, given what we now know," Prince Andrew said in the statement. "I have tremendous sympathy for all those affected by his actions and behaviour."
He concluded:
"His suicide has left many unanswered questions and I acknowledge and sympathize with everyone who has been affected and wants some form of closure. This is a difficult time for everyone involved and I am at a loss to be able to understand or explain Mr. Epstein's lifestyle. I deplore the exploitation of any human being and would not condone, participate in, or encourage any such behaviour."
Alleged Epstein victim Virginia Roberts Giuffre claimed in a 2015 deposition that Epstein forced her to have sex with Prince Andrew on multiple occasions when she was 17 years old. A photo that shows the duke with his arm around Giuffre's waist (and alleged Epstein co-conspirator Ghislaine Maxwell in the background) still has not been addressed by Buckingham Palace or by Prince Andrew.