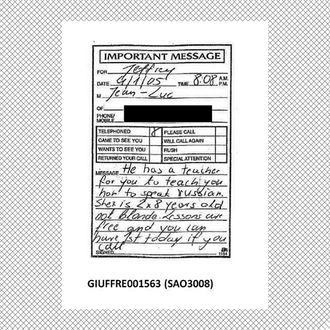 "She is 2x8 years old not blonde."
Photo: courthousenews.com
On Friday, a federal appeals court ordered the release of a trove of damning court documents pertaining to the case against convicted sex offender Jeffrey Epstein. The 70-plus pages of records rehash and expand on longstanding allegations from Virginia Roberts Giuffre, who says she was one of Epstein's victims. Amid the many explosive (and familiar) allegations detailed therein, Friday's release outlines a flimsy code Epstein's associates seem to have used to arrange his sex appointments with underage girls.
Epstein currently faces federal sex trafficking charges for recruiting dozens (and that may be a vast underestimate) of young girls into a "sexual pyramid scheme" during the early aughts. Friday's documents, however, come from Giuffre's 2015 lawsuit against Ghislaine Maxwell, the British socialite who allegedly functioned as Epstein's madam. Giuffre argued that Maxwell had defamed her by branding her a liar: Giuffre maintains that when she was 15 years old, Epstein enlisted her into his personal sex ring and, with Maxwell's help, trafficked her to his powerful friends. Giuffre and Maxwell, who denied the claim, settled the case in 2017, keeping the documents out of public view until now. There's a huge amount of information to sift through, but one detail of particular interest is how Maxwell seems to have functioned as a sort of secretary, scheduling Epstein's "massage" sessions with young girls.
According to the documents, Maxwell and others fielded calls from Epstein's victims, jotting down the details on message pads investigators found lying around the financier's Palm Beach mansion, or pulled from the trash, while executing a 2005 search warrant. "Girls" — some of whom, the notes made clear, were still in school — would call asking for "work," and Maxwell (or other associates) would allegedly fit them into a massage slot. (Maxwell's attorney previously called Giuffre's assertions "obvious lies.") At least one of these messages appears to have flagged the recruit's age: The documents cite a note "for Jeffrey, from Jean Luc" — presumably, modeling agent Jean Luc Brunel, whom Giuffre says she was forced to have sex with and whose lawyer declined to comment when contacted by the Daily Beast — that reads:
"He has a teacher for you to teach you how to speak Russian. She is 2X8 years old not blonde. Lessons are free and you can have your 1st today if you call."
It appears to be a tissue-thin attempt at encryption, and if you remember your multiplication basics, you can probably guess what the lawsuit suggests it means: Call today to book your appointment with a 16-year-old girl. This that fits with the current allegations that Epstein purposefully sought out minors to perform sex acts for him. According to the court documents, Epstein left "hundreds" of these kinds of messages "out in the open for anyone to see," a level of carelessness that truly takes a Teflon expectation of impunity to achieve.