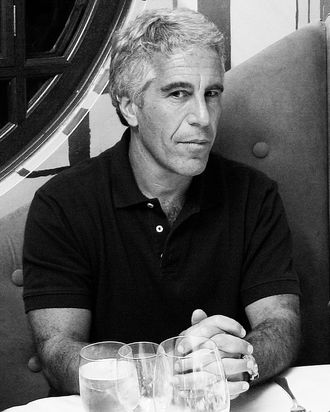 Jeffrey Epstein.
Photo: Rick Friedman/Corbis via Getty Images
New York City's chief medical examiner ruled Jeffrey Epstein's death a suicide on Friday, confirming reports that the sex offender hanged himself in a Manhattan jail cell on Saturday morning.
A string of serious procedural lapses at the Metropolitan Correctional Center, where Epstein was awaiting trial on federal sex trafficking charges, led some (ahem, the president) to suggest that one of his powerful contacts may have commissioned a hit on the wealthy financier as a means of silencing him: Epstein, some have said, had dirt on a number of his influential peers. After being taken off suicide watch, Epstein reportedly hanged himself with a bedsheet while the officers assigned to guard him — and to check in on him every 30 minutes — slept for about three hours of their shift.
The outlandish series of screw-ups struck some as a little too convenient to be believed, and details from the autopsy leaked to the Washington Post only added mud to already murky waters. According to the Post's sources, Epstein's hyoid bone was broken, an injury that does sometimes occur when a person (especially an older person) hangs themselves — but more often occurs when someone is strangled to death. At the time, medical examiner Barbara Sampson said of the report: "In all forensic investigations, all information must be synthesized to determine the cause and manner of death. Everything must be consistent; no single finding can be evaluated in a vacuum." Her office did not respond to the Cut's request for comment by time of publication.
Others who found the circumstances of Epstein's death unusually shady, like Epstein's former bodyguard, suspected that the late money manager had outside help in the suicide. The ME's autopsy, however, points to suicide by hanging — without anyone else's assistance.
Prosecutors believe Epstein recruited dozens of girls (some as young as 14, which he allegedly knew) into a sex trafficking ring between at least 2002 and 2005, paying them hundreds of dollars to give him "massages" that often turned into molestation. On several occasions, his alleged victims have said, Epstein raped them. He also offered some extra cash to enlist other teens, luring "constant stream of underage girls" to his various homes. He would have faced life in prison if convicted, but now that he is dead, investigators have turned their attention to his alleged co-conspirators — particularly Ghislaine Maxwell, the socialite on Epstein's arm and his apparent partner in crime.