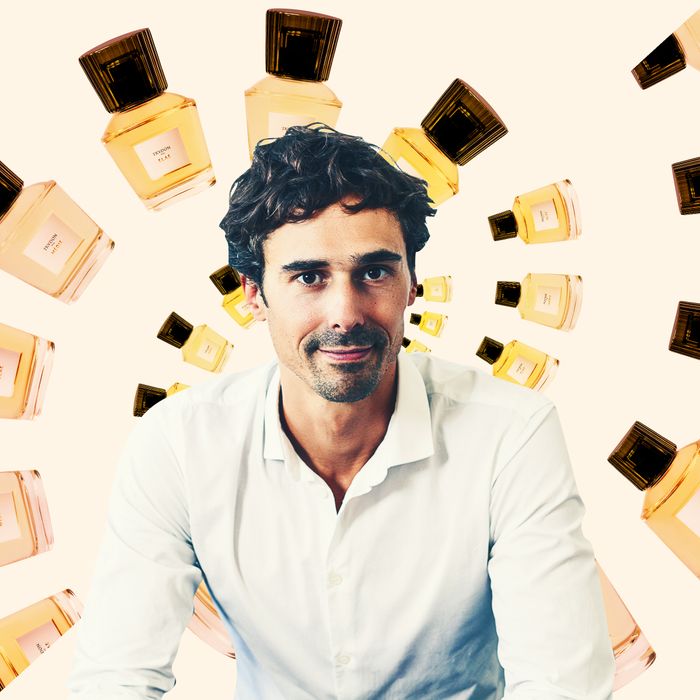 Photo: Courtesy of Trudon Parfums
Call it the Proust effect: Memories are often triggered by smells. Scientific studies confirm that, of all the senses, smell offers the best recall. In Scent Memories, the Cut asks people about the scents they associate with different times in their lives. Next up is Julien Pruvost, Creative Director of Maison Trudon Parfums, the lineup of fragrances stemming from Cire Trudon, the storied French candle producer founded back in 1643 that provided for the royal court of Louis XIV. This summer, the maison released two new fragrances: Médie, a blend of citrus with a touch of incense, and Elae, a fresh bouquet of white flowers. The Cut caught up with Pruvost to talk surf wax, neoprene masks, and smelling winter-y in the summertime.
My first scent memory is: The first time I went to my grandparents' home in the South of France. There was one particular moment that was quite vivid. I can smell the kitchen and a cupboard there that has a sort of rancid yet sweet smell to it. It kind of captures all the food smells over the years. It's made of wood, which is why it captured smell so well. It's kind of an off smell, but one that you like and go back to. Usually when I'm there, the windows are always open because it's so freakishly hot sometimes and you can smell the pine-tree sap. It's not your Christmas tree type of pine; it's a Mediterranean type of pine and because it's so warm, they smell very strongly and it mixes it all together; the combo of the cupboard and the warm air.
Happiness smells like: Warm seawater. I'm a surfer and no longer ashamed to say it because I'm 40 years old and I don't care anymore. I was brought up in Paris, so what the heck. One of the reasons I don't go back to surf there is because there are no waves, but any sea or ocean, as soon as it lights up with the hot air of summer, it smells like happiness.
Love smells like: My wife is immediately the image that comes to my brain, but how do I explain why it is so immediate? I'm sure you know scent is the only sense directly related to the brain; it doesn't travel to our nervous system. Not to say that it's slow, but there's nothing in between — it's just the scent and then bam.
If you're with someone and that's not what comes to mind, something may be wrong. We're animals and we're made to mate and we feel these strong bonds and compatibility.
Heartbreak or loss smells like: It actually tastes like a bad acid taste in your mouth. It's also smells like a combo of things coming up from the wrong place, like a hospital. We don't need to spend too much time on this question.
Friendship smells like: Something warm and toasty. One smell I really love is a sun-baked basketball court. The court I used to play on in Paris, I still go to now and then. They're not made out of cement or asphalt. They're made of this rubbery surface. It's rubber and tires. It's great for old knees. When it heats up in the summer, something comes out of it that's quite interesting. Almost like a warm wet-suit kind of smell. Also, anything fresh out of the oven, like a pizza.
Regret smells like: Something you missed out on, so you'll never discover that scent. Something you're chasing and you weren't able to capture. It's a missing link. Basically, regret is not too far from heartbreak; it's disappointment. It's not as brutal, but if it keeps on lingering in your mind or life, it can be pretty damaging. But I'm not sure it's an entirely negative thing to have a sense of regret. Maybe it's an opportunity; but what does that smell like?
Success smells like: Amazing food. It doesn't need to be specific food; any sort of good comfort food that doesn't involve too much meat or sauce. When the food is right, it's like nothing can really go wrong. It makes me think of my current definition of success: When you can maintain a certain level of happiness as much as and as long as you see possible. It's beneficial not only to yourself, but to loved ones and colleagues, too. You can encapsulate that with a really good meal. It's hard to gather a lot of people for anything these days. You just need quality vegetables, a nice salad, maybe a nice rosé, good sorbet. Or a nice almond cake.
Vacation smells like: Surf wax. I was recently on my way to my uncle's place in the Hamptons, and he has a typical American basement with a ping-pong table and a flat-screen TV and all this junk you just want to look through and a massive refrigerator. There's a smell to that basement. I could stay a month down there, cuddled up. It's just so comforting. I don't know what it is — a mix of wood and plastic. But there's something American to that smell. I'm half American and growing up, a lot of my friends were fascinated by the United States. I didn't realize how lucky I was to have this double culture.
The worst smell is: Airplane smell. And diesel smell — that's a French specialty. We have a lot of cars here. When you arrive at the airport in Paris, it's a combo of diesel and kerosene and you want to get out of there as soon as possible. I love taking the air train, though, because it's a smooth transition from the airport to the city. I ride a bike to work and wear a pollution mask and I'm always ranting about it. When is everyone going to ride a damn bike? I'm getting old and grumpy. I love my city and I love Paris, but I'd much rather take the train or bike.
My home smells like: It's going under some work lately, so I'm kinda stuck with plaster and paint smell, but usually it smells of food, because I usually arrive after a meal has been served to our children. It also smells like Cire Trudon, a mini version of our factory, which is a combo of a lot scents. I try to keep it under control, meaning my wife and I focus on one scent at a time. I gave away quite a lot of product recently, because it was over the top. Each room was a different candle or several types of candles.
Sunday morning smells like: My wife's hair. It varies on a regular basis because she's trying different haircare products and I always bring stuff back from my travels. I also try to stretch a few times in the week and I have a pretty cool yoga mat that has a nice rubber smell to it — not too strong; I think it has natural rubber in it. It also smells like book paper from reading. It's nice to wake up and read before leaving bed. You need a good book for that. If it's too technical, it's impossible. The vegetable and fruit market next to our house in Paris. I go on my bike and fill my bag up with vegetables and there's a sort of dampness to that scent. It's not too strong, because it's airy and breezy outdoors.
Monday morning smells like: Matcha or coffee. I'm not decided yet on either side beause I drink both. Not at the same time. But I'm not a matcha or coffee gang person, I like to vary things. Maybe some more neoprene from my pollution mask because it's the first thing I put on my face before I leave my place.
If I could have one smell on my hands forever: I'm going to cheat and pick two because I have two hands. On the left hand, I'm going to have eucalyptus, and my right hand, I would carry cypress balls. My grandmother used to make eucalyptus seed necklaces for me as a kid because there was a massive tree above our place, and my grandfather planted cypress next to the house, too. I used to pull them out and use a tennis racket to swing them across my neighbor's yard onto the roof, fun times.
I smell like: Right now, Révolution, one of our fragrances we launched two years ago. It's a huge a wood pile. A smoky wood pile. Everyone usually thinks that when it's warm out, you want to keep away from those heavy, wintery smells, but one thing that reveals fragrances tremendously, of course, is skin and especially warm skin. It's pretty warm in Paris right now; I'm wearing a t-shirt in the office. You don't want to put too much on or you're going to repel a lot of people, but if you put the right dose with the warmth of the atmosphere, I love it, it's really comforting. You don't need to smell like a grapefruit or peach or refreshing just because it's summer. You can smell like wood.
If you buy something through our links, New York may earn an affiliate commission.