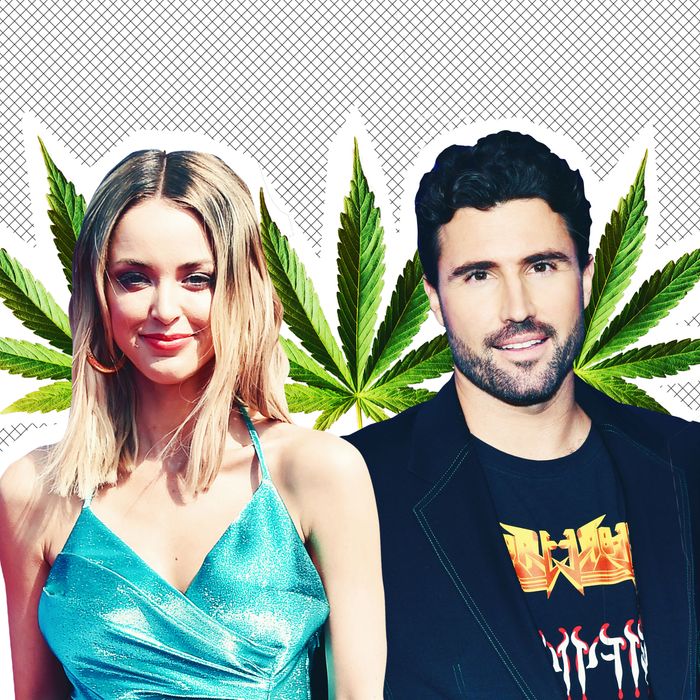 Nothing says "our love has died and now I'm banging Miley Cyrus" like a weed bouquet.
Us Weekly reported on Thursday that Miley Cyrus and Kaitlynn Carter, who are perhaps dating and at the very least have been making out on an international level these past couple weeks, sent Carter's very recent ex Brody Jenner (star of The Hills and regular on Keeping Up With the Kardashians) a bouquet of weed and other assorted weed paraphernalia. The card attached read "WEED like to wish you a Happy Birthday! Love you! Miley + Kaitlynn."
Jenner and Carter confirmed their breakup on August 2, about a year after their wedding ceremony (although the couple reportedly did not receive a marriage license, so, in a larger sense, are not married).
Shortly after Carter's message, Brody sent out his own, telling fans "Real quick, I just want to say thank you to each and every one of my Instagram followers. I appreciate your love and support and the birthday wishes, your support has been everything and I really appreciate it. Cheers to 36!" Brody also posted videos of Cyrus and Carter's gift in his Instagram Story and praised their selection commenting on the bouquet via Instagram: "I have never seen one of these in my entire life. Oh my God. That's kush too. Happy birthday to me."
I literally can't think of anything worse after a recent breakup than getting way too high. But I'm also not surprised that what to me is a recipe for anxiety, panic, and rewatching Wedding Crashers to calm myself down, is for Brody Jenner a pretty cool birthday present.