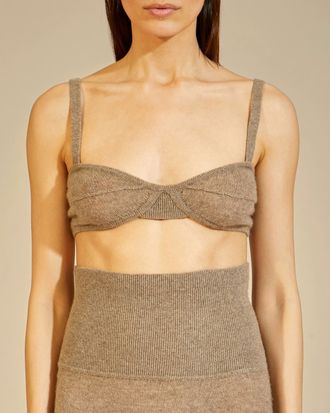 On Tuesday, actress Katie Holmes was photographed shopping in Soho with her daughter, Suri Cruise. It was an unusually cool day in late August — the kind that makes you want to start fresh, and spend your paycheck on fleece jackets, trench coats, and soup. Or, if you're Katie Holmes, wear a $520 cashmere bra.
I like to imagine that Holmes woke up alone on Tuesday in her California king, and felt a slight chill under the covers, pulling them up to her chin. She grinned: It's time. Everyone has an outfit that only works in the perfect storm of circumstance, temperature, and mood, and today was that day for Katie Holmes and her cashmere bra. She sprung out of bed and went to her enormous walk-in closet, opening her "special" underwear drawer. She slipped the $520 barley-colored Khaite bandeau over her chest, followed by a matching $1,540 sweater and then gave herself a hug. Fall. She whispered, rocking herself back and forth. I love you. She then threw on a pair of blue jeans and some slide sandals, styled her hair in a messy bun, and walked out the door, only looking at herself in the mirror as she put on a pair of sunglasses.
When you see paparazzi photos of Katie Holmes wearing the look, her $1,540 cashmere drooping off her shoulder with a shrug, you can just tell this is how it went down. Right? It's got that impossible, enviable balance of comfort and class. And now, Katie Holmes is a cashmere bra influencer.
According to a Khaite representative, within one hour of the brand sharing a photo of Katie Holmes in their "Eda" bra on Instagram, they had completely sold out of all their inventory. "Eat your heart out, Jamie Foxx!" wrote one commenter, referring to the actress's alleged ex. The brand also confirmed that Holmes purchased the set herself, and was introduced to the brand by stylist Jeanne Yang.
When asked why the look got such a strong response, Khaite founder and creative director Catherine Holstein said the answer was "obvious."
"I want everything in cashmere," she told the Cut in an email. "I want a cashmere house. Why not a bra?" She added that it may look small, but "easily stretches" over many different cup sizes when you put it on. "I have been making cashmere bras for two years now and really believed that people would catch on eventually," she said. "Thank you Katie!"