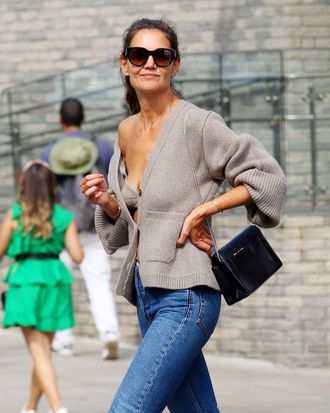 Photo: LGNEW/LRNYC / MEGA
What is the healthiest way to move on from a breakup? Is it to reconnect with the person who you were before the relationship? Is it to tweet about how you weren't able to work on the 2012 film Hotel Transylvania because you got your boyfriend a penis cake for his birthday? Or, is to swath your boobs in sumptuous fabrics and take to the streets, like Katie Holmes did in Soho on Tuesday, weeks after "Page Six" reported her split from her longtime boyfriend Jamie Foxx?
The $520 cashmere bralette Holmes wore this week was from Khaite's pre-fall 2019 collection, according to "Page Six," as was the oversize cardigan she paired it with.
Holmes, who was out with her daughter Suri Cruise at the time, glowed. And why wouldn't she? Wearing a bra out as a top announces to the world that you're not just surviving, you're thriving; that you're living out loud; that your chest — once hidden away in the folds of monogamy — is finally free, and so are you. Having that bra be made out of cashmere tells the world all of that, and also that you're very rich.
So while her ex cavorts around with his new flame, singer Sela Vave, who graduated high school in 2018, Holmes is on her own breakup journey, one of comfort and hot bra tops. She has yet to post about her connection to Hotel Transylvania, but it's probably only a matter of time.