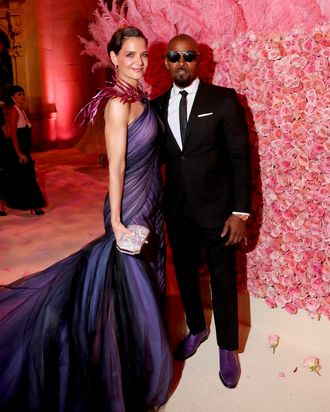 Photo: KEVIN TACHMAN/Getty Images for The Met Museum/
It seems like it had only been a short while since we had finally gotten real evidence of a relationship between Katie Holmes and Jamie Foxx. The famously private duo had reportedly been dating for years, but they were rarely seen together in public.
Now, as Page Six reports, the couple has called it quits. The news of Holmes and Foxx's breakup comes just a couple of days after Foxx was photographed with singer Sela Vave, causing speculation that he was cheating on Holmes. However, their relationship had apparently been over for a while. So, what happened to this extremely low-key celebrity relationship? Let's review what we know.
When did they start dating?
Holmes and Foxx have known each other for over a decade, at least since 2006. They were believed to have hooked up back in 2013, about a year after her divorce from Tom Cruise. The couple was rarely seen in public together, save for paparazzi snaps and rumored sightings. Then, in 2018, Holmes and Foxx finally appeared together in public at Clive Davis' Pre-Grammys Gala, and then at this year's Met Gala. "They are so great and Katie is always so chic. They were wonderful," Foxx's 25-year-old daughter, Corinne, told People at the time, though the link to the interview was later mysteriously removed.
Why was it so secret?
Celebrities can be pretty quiet about their relationships, but usually there's some sort of acknowledgment. While Holmes and Foxx never really spoke publicly about each other, friends of the couple said nice things about their romance over the years. However, many of them ended up backtracking their comments. Foxx even walked out of an interview when asked about Holmes — though earlier this year, he described his Miami getaway with her to Us Weekly as "foolish!" so it seemed like they were finally on their way to opening up. Their intense privacy may, in fact, have had to do with the divorce agreement between Holmes and Cruise.
So, why did they breakup?
Who knows? But a source told Us Weekly that it was Holmes who dumped Foxx, and they had been broken up for a while. According to Page Six, Holmes was overheard at a restaurant, saying,"What Jamie does is his business — we haven't been together for months." A source also told the outlet that they broke up in late May, shortly after their appearance at the Met Gala.
Who's Sela Vave?
Last week, Foxx was spotted holding hands with Sela Vave, a singer (who graduated from high school in 2018), outside of LA nightclub Bootsy Bellows. A photo of the pair was posted on Vave's Instagram on June 30, with the caption, "I'm so grateful to this man! Thank you so much, @iamjamiefoxx for everything you do and for believing in me." A source told People that Foxx is helping Vave with her career. He was also seen with an unknown blonde woman on August 15. Looks like the mystery continues.
In the meantime, Holmes can be seen enjoying one of the summer's biggest fashion trends: high-heeled flip flops.