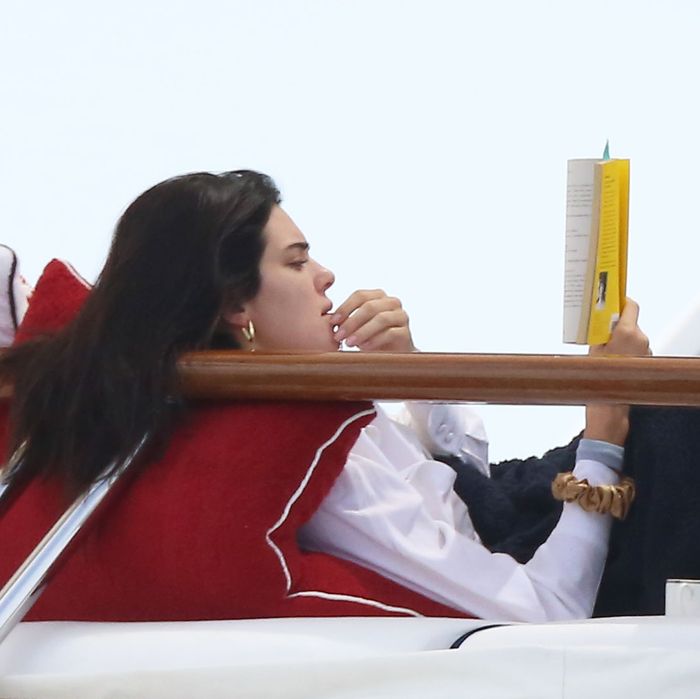 Photo: IMP Features / SplashNews.com
Look, celebs read books all the time — probably a celeb is reading a book at this very moment! — but the young, influential, and possibly musical ones are particularly keen on flaunting their cool taste in Literature. Gigi Hadid has reportedly been spotting clutching a copy of Albert Camus's The Stranger. Her sister, Bella, hid behind Stephen King's The Outsider at an airport once. In April, Emily Ratajkowski shared her love of Sally Rooney's Conversations With Friends on social media. Justin Bieber reads Christian self-help books about how to be married. Goodreads has a dedicated "Books Harry Styles Has Read" page that contains all of ten books.
No one holds trendy books like Kendall Jenner, however, who was recently seen reading Darcie Wilder's literally show me a healthy person, and is back at it again with her color-coded underlining of a Miranda July short story from her collection No One Belongs Here More Than You.
The model posted a page from July's book in her Instagram Stories on Tuesday, highlighting in pink the phrase "Men are turned on by women who are taller than them." The following sentence reads, "But now I know better, and I prefer the sentence with 'in heaven.'" Jenner has underlined "in heaven" in green (to match her manicure?). I'm not sure what to make of this aside from the obvious: that Kendall Jenner, a model of great influence, is tall and attractive to plenty of men. It looks as if she is reading atop a bath mat. I want to read atop a bath mat.