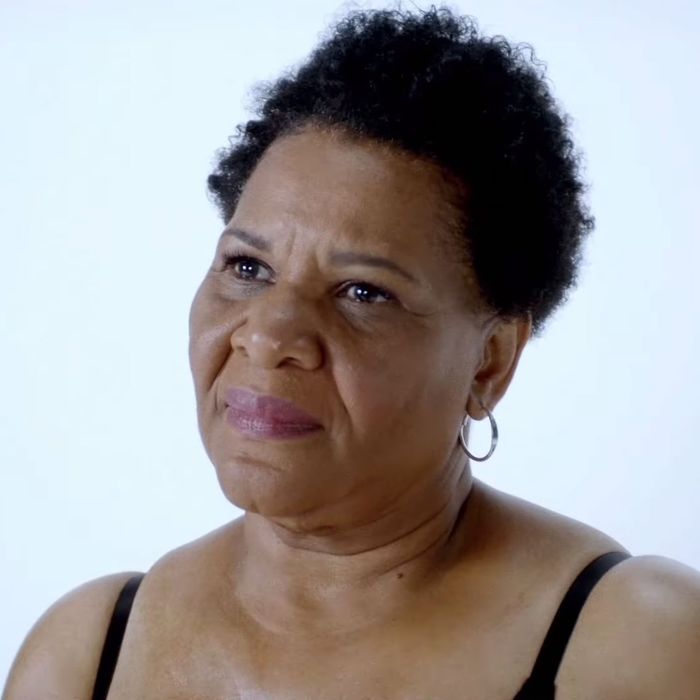 Watching Kim Kardashian West's new campaign video for SKIMS, her shapewear line (formerly known as Kimono) brings up a lot of conflicting feelings. On the one hand, it stars a glowing Alice Marie Johnson, who was pardoned by President Trump last summer, after Kardashian West met with him at the White House on her behalf. At the time, Johnson faced life in prison with no possibility of parole for a first-time, nonviolent drug offense, and had already served 21 years behind bars. Now, she's free and doing what she wants — which includes modeling Kardashian West's "sculpting bodysuit."
In the video, Johnson describes, poignantly, what her newfound freedom feels like. She can wake up in the morning and not have a bunk bed over her head, she says. She can open the door whenever she wants to and walk outside and breathe fresh air. "To breathe in freedom, that is precious to me," she tells the camera.
Shapewear also makes her feel free, Johnson adds. "This shapewear makes me feel that I can walk into the store, I can pick up something that I normally wouldn't think about wearing and I can put it on, and it's going to look great on me."
Shapewear is already tricky to talk about — it literally binds us, and yet we all know it can make can make a woman feel better equipped to exist in a judgmental world. Personally, I feel more emotionally and physically secure when I wear Spanx under a form-fitting dress, or bike shorts to a workout class. But of course, I'd probably feel even more secure if I didn't have to worry about what my body looked like at all. Kardashian West even went as far as trademarking SKIMS — which is designed to be "inclusive" for all body types and skin tones — as "solutionwear," implying that there was a problem that needed solving.
Jia Tolentino explores the double bind of products like Spanx in her Trick Mirror essay, "Always Be Optimizing." She writes: "When you are a woman, the things you like get used against you." What feels good can also often feel "brutally disempowering" in the end.
Obviously, shapewear is nothing compared to the brutally disempowering experience of prison. Which is why Kardashian West's conflation of the two feels so jarring. It seems wrong for Kardashian West to use Johnson for her own financial gain, but it also seems patronizing to object to Johnson choosing to appear in the video, and likely profiting from it as well. Such is life under Kapitalism.