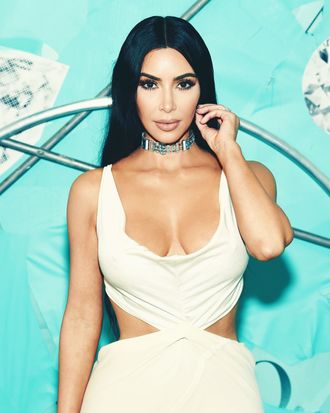 Kim Kardashian West.
Photo: Dimitrios Kambouris/Getty Images for Tiffany & Co.
When Kim Kardashian West announced her line of shapewear "solutions" under the name "Kimono," she probably could have seen the backlash coming. But after a plea from the city of Kyoto and many posts calling the name cultural appropriation, she's changed it. The new name is TBD, but she announced on Instagram that it would no longer be called Kimono.
"When I announced the name of my shapewear line, I did so with the best intentions in mind," she wrote on Instagram. "My brands and products are built with inclusivity and diversity at their core and after careful thought and consideration, I will be launching my Solutionwear brand under a new name. I will be in touch soon."
Some said that using the word — which one might assume Kardashian West liked because of the first syllable — erased its Japanese heritage. A hashtag was born, #KimOhNo. And the mayor of Kyoto, Daisaku Kadokawa, wrote Kardashian West a letter. "We think that the names for 'Kimono' are the asset shared with all humanity who love Kimono and its culture therefore they should not be monopolized," Kadokawa wrote.
This is the second time in a month that a government official in another country has gotten involved in calling out American designers for cultural appropriation. The ruling party in the Mexican government wrote a letter to Carolina Herrera designer Wes Gordon, urging him to reconsider the use of embroidery in the Resort 2020 collection, which was influenced by Mexican artisans, but not done by them.
Per Kim's last Instagram, she'll be in touch soon.
Update, August 26, 12:32 p.m.: Kim got in touch! In an Instagram post on Monday morning, she said the shapewear line formerly known as Kimono will now be called "Skims." It comes out on September 10 on Skims.com. Kim said, "I love the idea that the pieces will be the closest thing to someone's skin, skimming with amazingly soft and supportive fabrics which accentuate the best parts of our bodies."