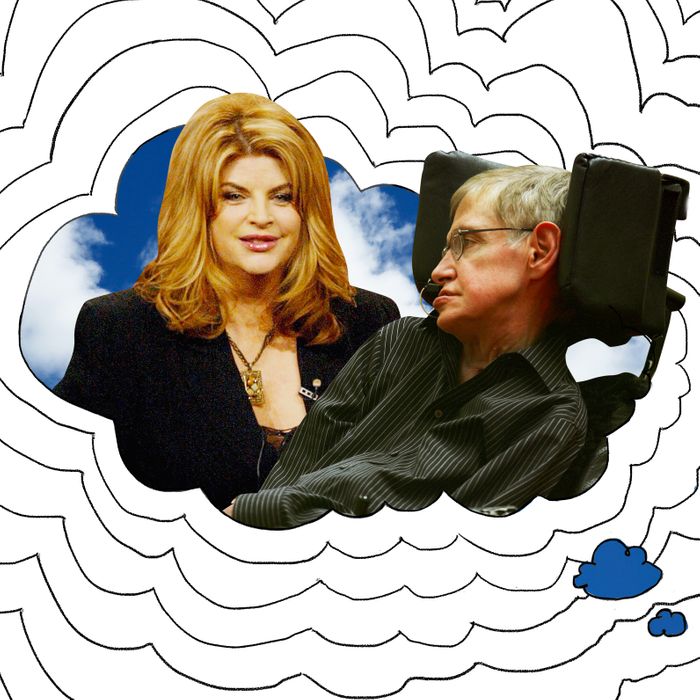 I Think About This a Lot is a series dedicated to private memes: images, videos, and other random trivia we are doomed to play forever on loop in our minds.
Exactly ten years ago, as a bright-eyed 18-year-old recent high-school graduate, I created an account on Twitter. It was simply a place to read random thoughts distilled into 140 characters. Despite a fair amount of change for both of us over the last decade, my relationship with Twitter is the longest one I've ever been in. Like any couple, we've had our issues. There were times when we "gave each other space." But I came back. I always come back.
Twitter is my primary source of news, entertainment, and memes. It's a good way for me to get the gist of what's going on without actually being informed. Twitter enables and challenges me. The greatest of those challenges came on March 14, 2018 — the day Stephen Hawking died and also the day Twitter forced me to admit a shocking truth: I know more about Scientology than I do about Science.
Stephen Hawking contributed so much to … ummm … the world, so it was only natural that celebrities, public figures, and civilians alike would tweet to express their gratitude, condolences, and fond memories. Larry King, Macaulay Culkin, and Grammy nominee Katy Perry offered kind words of remembrance. The loss of this man was felt.
And then, a most unlikely Twitter user — someone we truly never expected to hear from on the matter — chimed in with her thoughts. Kirstie Alley wrote:
You had a good go at it..thanks for your input.
11 words. 46 characters. The tweet was published in such haste, she didn't even complete her ellipses. In case the sentence didn't immediately read as a reaction to Hawking's passing, she included a photo of him with the years of his birth and death.
Usually, the best viral content is easy to digest. It doesn't require much thought or introspection. Don't make me unpack the meaning of a meme like a high-school English student reading The Awakening. But this Kirstie Alley tweet turned that notion on its head.
I became obsessed. I kept reading and rereading. What could it possibly mean?
You had a good go at it..thanks for your input.
You had a good go at it..thanks for your input.
You had a good go at it..thanks for your input.
Alley's tweet was not only unexpected. It was also incredibly crass and disrespectful. Some situations where it might be appropriate to say this:
• Passive-aggressively to your direct report after they chime in during a meeting.
• Sarcastically to a man after he's attempted to pleasure you, just before you grab your vibrator.
• I can't even think of a third.
An actress so brazenly condensing a scientist's (?) life into two vague sentence fragments. How could she? After all that Stephen Hawking has done throughout his career! Is it Stephen or Steven? Wait … what exactly has he done in his career?
I could rattle off facts about Kirstie Alley in my sleep. Popular movies? It Takes Two, Look Who's Talking, Look Who's Talking TOO! TV credits? Cheers, the iconic Oprah moment, Celebrity Big Brother! Religious affiliation? OT-VIII Scientologist. As I mentioned, Scientology is another topic I'm well versed in. I've watched multiple documentaries and television shows about it. I even read Leah Remini's book cover!
Meanwhile, I'm unable to point to a single thing Stephen Hawking did during his 76 years on earth. We had a copy of A Brief History of Time in my house growing up. I couldn't tell you what it's about. Stars? Time? I don't know! Eddie Redmayne was in a movie about his life and won an Oscar. But to be honest, I always confuse that one with The Danish Girl and I never saw either. Still, I know he was important enough to merit a more thoughtful Twitter send off than "You had a good go at it.."
Kirstie's tweet was deleted. Thankfully, the screenshots remain. So many heartfelt messages were posted and yet this is the one that has resonated with me the most, marrying Kirstie Alley and Stephen Hawking forever in my mind.
What possessed her to post the Tweet? Perhaps she was trying to distract from the fact that Shelly Miscavige (wife of David Miscavige, leader of Scientology) has been missing for years? If so, I have to applaud her; for a brief moment, I forgot about Shelly (sorry, Shelly). I'll probably never know what her real motivation was, but I do know that the tweet opened my eyes to the gaps in my own knowledge and what one could view as misplaced priorities. And for that I thank her.
Ah, a third and final situation to use this line: If I ever meet Kirstie Alley and she asks what I thought of her attempt at condolences after Stephen Hawking died, I know exactly what I will say. You had a good go at it..thanks for your input.