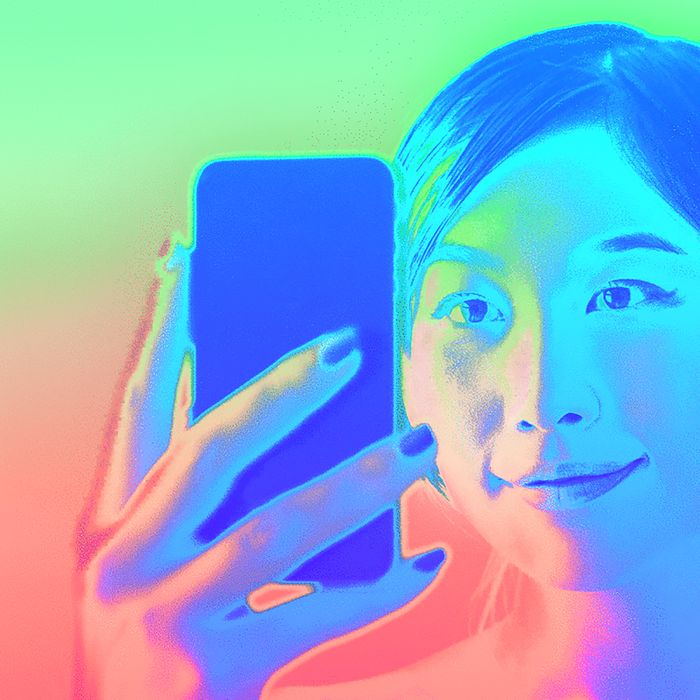 Photo-Illustration: by Stevie Remsberg; Photos: Getty
It's always fun to fall into a black hole of homegrown influencer drama, but sometimes it's nice to take a rejuvenating break by seeing what beauty influencers elsewhere are up to, like in South Korea, the birthplace of Korean beauty and the reason for this week's K-beauty theme. When it comes to anything living on the internet, once you discover one solid channel, it's almost impossible to stop. You can easily spiral for days and entire weeks, floating from one vortex of tutorials and extremely well-edited product shots to the next. So for now, here are a manageably mere five Korean beauty influencers to follow.
Risabae
With a cool 2.1 million followers, Risabae has been dubbed one of the most powerful beauty influencers in Korea, so you should probably check her out. A makeup artist by trade, she knows what's up, and her channel reflects it with a mix of advanced looks and instructional basics for beginners who don't know the difference between a contour brush and blush brush. She's also known for extremely accurate celebrity re-creations (like the one of Korean singer Sunmi's cover above), which followers and news outlets freak out over.
Kim Daeyong
If you want to tune into a channel that makes you feel like you're hanging out with someone you actually know quite well who just happens to be on the internet as opposed to a complete stranger who happens to be on the internet, head to Kim Daeyong's channel. In a world of FaceTune, Photoshop, and novel-long contrived Instagram captions, Daeyong still comes across like a real-life person despite her huge following. Each video is packed with much more than a tutorial; you'll get an honest opinion about where products truly excel despite their lofty claims, sprinkled with relatable moments like when your liner came out subpar but honestly not subpar enough to completely redo, even though you're posting a video that will be watched by over 600,000 people.
SSIN
If you'd like to laugh out loud to yourself at your desk, confirming your co-worker's hunches that yes, your brain is indeed officially broken, just leave SSIN's videos on autoplay. Her "About" page says, "Subscribe to my channel and watch more funny makeup tutorials!," and that's honestly the best description for what you're in for. Thanks to her high level of self-awareness and excellent comedic timing, you get series like "Make up using products I HATE," "Full face of makeup using pretty but trash items," and "Overcoming the Fear of Pink," in which SSIN forces herself to create pink-makeup looks even though she just hates the color pink. Even the sponsored stuff (above) is refreshingly watchable.
Sunny's Channel
Sunny's Channel is a fun mix of straight-up instructional makeup tutorials, impressive celebrity transformations, really good hair, and charming use of the phrase "esketit" (above). Though born in South Korea, she's based in NYC, which means you also get beauty-related vlogs shot around the city in which she code-switches between Korean and English while doing things we've all thought sounded good in theory, like successfully shopping the beauty section at Whole Foods or doing an entire face of makeup at a Sephora "inside of JC Penney, which is really weird." (Agreed.)
PONY Syndrome
If you want to be mesmerized consistently and mildly disturbed sometimes, head over to Pony's channel to join her casual 5.2 million other followers. There you'll find beautifully shot videos that will make you want to hire her team to do your wedding, a huge range of both skin-care and makeup tutorials using all your favorite K-beauty brands, a charming three-minute conversation with an LED mask on, and her slightly unsettling transformations into people like Taylor Swift that are almost impossible to click out of. You've been warned.