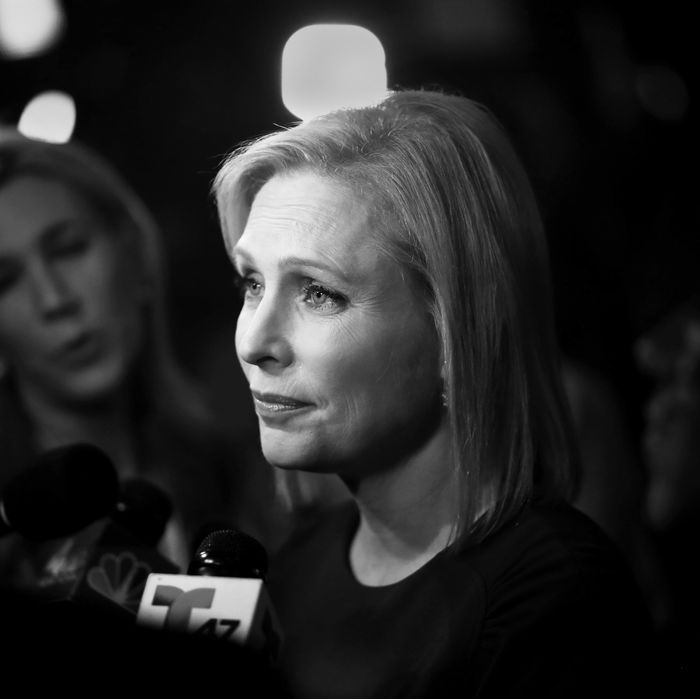 Kirsten Gillibrand.
Photo: Cliff Hawkins/Getty Images
New York senator Kirsten Gillibrand has ended her campaign for president.
On Wednesday evening, after failing to qualify for the third primary debate, Gillibrand announced that she was officially withdrawing herself from the crowded field of Democratic presidential candidates, per the New York Times.
"I am so proud of this team and all we've accomplished," Gillibrand tweeted. "But I think it's important to know how you can best serve. To our supporters: Thank you, from the bottom of my heart. Now, let's go beat Donald Trump and win back the Senate."
After officially announcing her bid for presidency in January 2019, Gillibrand focused her campaign on issues that have long been cornerstones of her political platform: reproductive rights, sexual misconduct, and paid family leave. However, over her seven-month-long candidacy, she failed to gain momentum in the polls, which culminated in her decision to drop out of the race. Meanwhile, ten candidates are scheduled to yet again take to the debate stage, this time in Houston in September.
As of now, Gillibrand has not thrown her support behind another candidate who's moving forward, the most popular of whom include Massachusetts senator Elizabeth Warren, Vermont senator Bernie Sanders, and former Vice President Joe Biden. She did, however, vocalize to the Times that she does intend to endorse someone in the primary. Though she didn't explicitly say she wanted to support a woman, she did say that she thinks "women have a unique ability to bring people together and heal this country."
Meanwhile, Trump unsurprisingly tweeted his thoughts about Gillibrand's withdrawal from the presidential race: