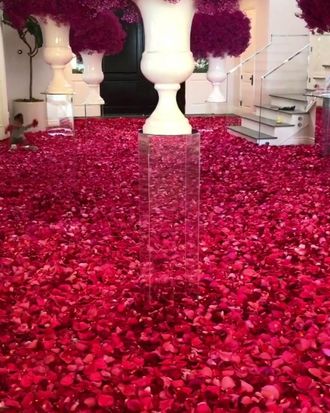 Photo: Kylie Jenner/Instagram
"Hey, happy birthday, sweetie. Here, I filled your home with trash. I hope you like it. I love you."
That, in essence, is what Travis Scott told Kylie Jenner on Monday, when he kicked off her birthday week by covering the floor of her entryway with a thick layer of red rose petals. Actually, the grand gesture came with a card (which is very funny, because it means that, after Scott told the florists to dump 23 trillion rose petals in his girlfriend's home, he was like, "Oh, also can you include a little card so she knows it's from me?") The card read, "Happy birthday!!!! We're just getting started. Love you!!!!" It did not, as far as I can see from Jenner's Instagram video, include instructions for cleanup.
It's a grand gesture, certainly, and the petals are very lovely. After the initial surprise wears off, though, you're just left standing on a pile of compost that probably smells overwhelming, given that it's summer in Calabasas, and that could very well be staining your floors. Plus, someone is going to have to clean it up. Probably not you, if you, like Jenner, are a "self-made" billionaire, but some sad staff person who has to decide how get rid of this mess, because a Hoover probably won't cut it.
At least Stormi seems to be having a good time.
This is not the first time members of the Kardashian-Jenner clan have enjoyed huge, elaborate, flower-based gestures. For Valentine's Day this year, Kanye West trapped saxophonist Kenny G in the middle of a room full of vases containing single roses, and had him serenade Kim Kardashian West. Again, no word on the cleanup involved.