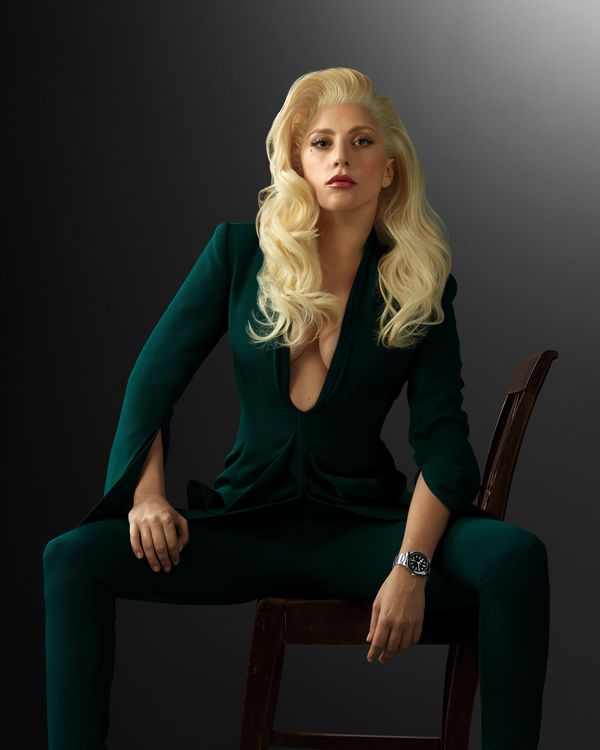 Between acting, performing, and creating a makeup line, Lady Gaga has had a busy year. One of her jobs is ambassador for Tudor, the luxury watch company, which made her the face of its "Born to Dare" campaign. She's the first woman to front the brand, and she does it in typically theatrical Gaga style, showing off her timepiece with slick clothes from Celine and Brandon Maxwell. Below, she talks about how she styles watches, her Vegas residency, and the funny place she keeps all of her awards.
On where you'll find her awards: I have my nine Grammys, Oscar, BAFTA, and Golden Globe in the kitchen area and also on a shelf that leads to the bathroom. When I wake up and when I go into the kitchen, I sometimes will glance up and think, Wow, okay, you did that.
On social media: There's a lot of pressure in the world to look a certain way [especially] with social media, and people try to keep up with that aesthetic. I'm not really into that. When I'm zigging, I like to zag later.
It's the job of any artist with a big voice to use it for good. When I see artists with big voices flaunting what they have, I think it is a terrible message.  Everyone needs to make a living, but young people need to be inspired to be brave, to have a purpose in the world that goes far beyond their beauty or being loved for having lots of followers.
On her style evolution: I think my style is ever-changing. I went through a period in my life when it was almost like shedding a skin. I'd dye my hair, wear a wig, or change my clothes completely because I wanted to feel like a different person. I'm more grown-up now, but I still transform from day to day. Last week, I went to see the Vegas Gaga Museum, which has a lot of my costumes from over the year, and I wore a tutu with a crop top. Today I'm wearing a [Celine] suit.
On being loyal to certain designers: I love Hedi Slimane. He did an absolutely incredible job at Saint Laurent, and I think he continues to shine at Celine. I'm very loyal in that way. I also have a very close relationship with Donatella [Versace]. I believe in friendship and [not skipping immediately to] the hot new thing.
On her Las Vegas residency: I wanted to eliminate this idea that Vegas is where pop stars go to die. It should be how it used to be, which is where you go when you'd made it.
On her legacy: I'd like to be remembered as brave. And I know that might sound strange. Sure, I'd love people to remember my music and my art — that's wonderful. But I'd prefer to be known for being unafraid to speak my mind. I think that God gave me this voice as a vehicle to change the world, and that's what I want to do.
On her favorite watch: I'm wearing Tudor's Clair de Rose. As a lyricist and a songwriter, I love that it's a play on words. In French, clair de lune means moonlight, while the rose reminds me of the song "La Vie en Rose," which I sing and love. It's a play on moonlight and romanticism and just a beautiful watch.
I have really tiny wrists, so I usually can't wear watches, but this elegant one fits me. I actually experimented with stacking them and wearing multiple ones at once — it's really fun.
Shop the Story
If you buy something through our links, New York may earn an affiliate commission.