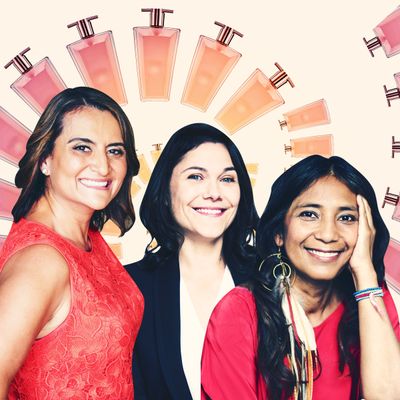 Adriana Medina, Nadège Le Garlantezec, and Shyamala Maisondieu.
Photo: Courtesy of Lancome
Call it the Proust effect: Memories are often triggered by smells. Scientific studies confirm that, of all the senses, smell offers the best recall. In Scent Memories, the Cut asks people about the scents they associate with different times in their lives. Next up are Adriana Medina, Nadège Le Garlantezec, and Shyamala Maisondieu, the three perfumers who came together to create Lancôme's new Idôle fragrance, the musky floral chypre with the "clean and glow" accord that officially launches today. The Cut caught up with the creators of the uplifting potion inside that super slim bottle Zendaya loves to hold to talk about Greek ice cream, deodorant, and burning wood.
My first scent memory is: 
Shyamala Maisondieu: Asian jasmine. I grew up in Malaysia and I can remember the smell of jasmine at night because my mom planted jasmine right outside the house. That's one of my first memories.
Adriana Medina: Baby powder. My mom used it on me when I was little, and on my sister and brother and that smell reminds me of the closeness and caring of my mom.
Nadège Le Garlantezec: It's my garden. When I was younger, my mother would be outdoors, and she would be burning wood and leaves and so she would smell like smoky wood, and for me, that's one of the best smells in the world.
Happiness smells like:
SM: I link it a lot to the sea. I am very, very happy when I'm by the sea and I can swim. I'm afraid of waves but I love swimming for very, very long periods of time. I love calm water. I also like things linked to the sea, like coconut water, or frangipani by the sand.
AM: Happiness is a lot of freshness and lightness. I'm a person who wakes up every morning, with energy about a new days and its beginnings. A note of aldehyde brings me happiness, or notes of fruits and flowers. Anything that's fresh, energizing, and light.
NLG: The smell of my baby. My baby is 1 year old, and this morning, I smelled him after a night of not sleeping and it wasn't a clean smell, but it was an amazing smell. [Laughs.]
Love smells like:
SM: Roses, I don't know why but for me it's roses. Fresh roses. Any colors. A big bunch of roses. Very cliché, maybe, but …
AM: No! I think it's the smell of flowers because they have always been an expression of love. We have that emotional link that love is the smell of flowers. For me, it's really the smell of roses, or lilies, lily of the valley, tulips … anything floral is an expression of love.
NLG: I was thinking about the lily of the valley, because when you offer it to someone you love, it gives them luck for one year.
Heartbreak or loss smells like:
AM: Salty, because it brings a lot of tears.
SM: I love that question, but I'm thinking dark notes. When I'm heartbroken, I want to just stay in a room without any light. But sadness and heartbreak are also part of life and I accept it and I embrace it, so it could be comforting smells as well, with dark notes like patchouli, any nutty notes …
AM: Smoky.
NLG: I'm thinking … This is tricky because I've never had my heart broken …
AM: Oh, great! [Laughs.] Keep it that way!
Friendship smells like:
SM: Ah, citrus. When I think about having fun, I immediately see bright colors like yellow, and orange. Maybe pineapple for a piña colada …
NLG: For me, it would be sweet things like sandalwood or a vanilla smell. Because when you meet someone who is close to you, they open up and are warm like those smells.
Regret smells like:
SM: Absolutely nothing. Because it means I've missed something and missing something makes me not want to smell it. I don't know. It's just something I don't want to smell. Nothing.
AM: Yes, nothing.
NLG: Nothing, mmmhmm. I'm with Shyamala.
Vacation smells like:
AM: Suntan lotion, because it means you're in the sun.
SM: Vacation is always in Greece so, all of the Greek food. I love it. Tomatoes, cucumbers, also oregano, and sage. And this wonderful ice cream that they make over there called kaimaki that's made of mastika — it's really good. It's something you only get in Greece.
The worst smell is:
SM: I love all smells, I can't say I have something that I hate …
AM: New York City garbage. That's the worst smell. And the subway system. The worst.
NLG: The smell of blood; the smell of pain … I feel like we're in therapy. [Laughs.]
I smell like:
SM: This is the deepest question, isn't it? I always have something musky on me. I have an accord that's just a simple musk with some fruits; it's rather discreet. But I guess I have my own smell too, so … I don't know, what do I smell like?!
AM: Today I smell like my deodorant, I have to say. I bought a new one and I'm trying this new scent. Usually I use a baby-powder one, but this is more floral so it's a little different. I don't feel as confident as usual, so I didn't put anything else on.
NLG: And tonight, we will all be smelling like Idôle.
If you buy something through our links, New York may earn an affiliate commission.