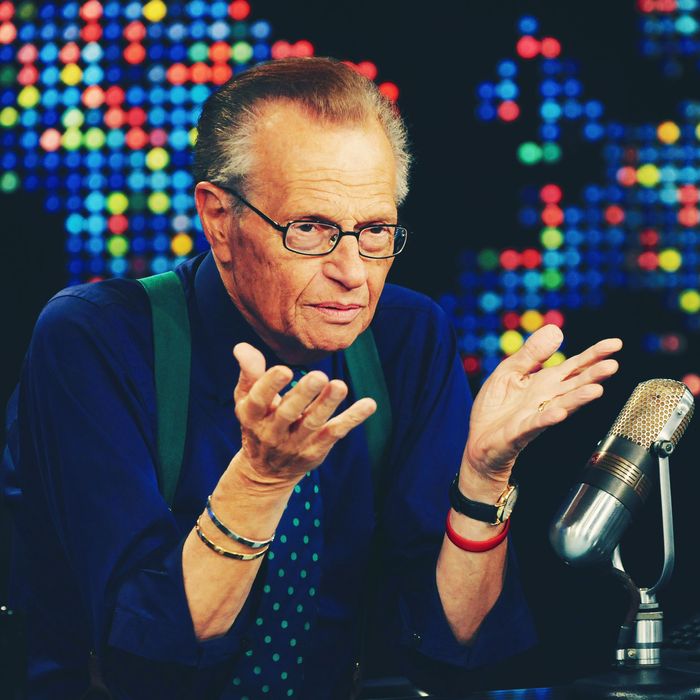 Larry King.
Photo: Jordan Strauss/WireImage/Getty Images
Typically, when I learn that a celebrity couple has made the decision to start divorce proceedings, I'm pretty indifferent. But on Wednesday, when I read the following headline about a pair's split on CBS News, my brain short-circuited while attempting to process the information: "Larry King files for divorce from his seventh wife, Shawn King."
That King, an 85-year-old-man, is married did not shock me; neither did the news that he has decided to divorce his partner. What caused me to temporarily black out was the littttttle detail — previously unknown to me — that seven women have said "I do" to this man.
I do not mean to be insensitive — it is unfortunate that King and his wife, who have two sons together, have decided to divorce after 22 years of marriage. According to TMZ, their relationship had become increasingly strained over the past few years, in part due to King's declining health.
But back to the number of wives: Seven??? Elizabeth Taylor had seven husbands over her lifetime, and, like King, she married one of her partners twice. (Yes, they've each been married a total number of eight times.) But still … Seven is an objectively high number of partners to take in holy matrimony. According to BBC News, the only celebrity who has been married more than times than King (and Taylor) is Hollywood icon and smoke show Zsa Zsa Gabor, who had nine husbands over her 99 years on earth.
Meanwhile, I haven't even had one wife. Seems unfair to me, personally.