In a time when the phrase "women supporting women" has peaked to the point of satire, the power of female camaraderie and allyship can get lost in tote-bag sloganism. But ask Lee Tilghman, the blogger behind Lee From America, for one of the reasons why she's built a career and online community (of more than 350,000 Instagram followers) around issues that affect women, and she doesn't hesitate: "The women in my life are everything to me. I am who I am because of them." Originally from Connecticut, Tilghman moved to New York City after college, where she worked in finance before making a fresh start in Los Angeles four years ago. After starting off waiting tables, she took on Lee From America full-time in 2016, creating highly personal health and wellness content on topics ranging from seed cycling to maintaining a healthy social life.
Along the way, Tilghman credits a circle of supportive women friends and peers in the blogging world for seeing her through challenges like figuring out work-life balance and learning to not take things personally. "Life is hard, and these women are walking me through it," she says. "We're all figuring it out together." With these champions behind her, Tilghman's had the confidence to be transparent about issues like disordered eating and being "sober curious." In celebration of The New Strong™ Collection from ASICS — made for and by women redefining what it means to be strong — we spent a day hiking with Tilghman and her best friend/cousin, Lindsay, in L.A.'s Elysian Park. Read on for what the recently re-emerged blogger had to say about her mission to be relatable, educational, and authentically herself, and about the women who embolden her.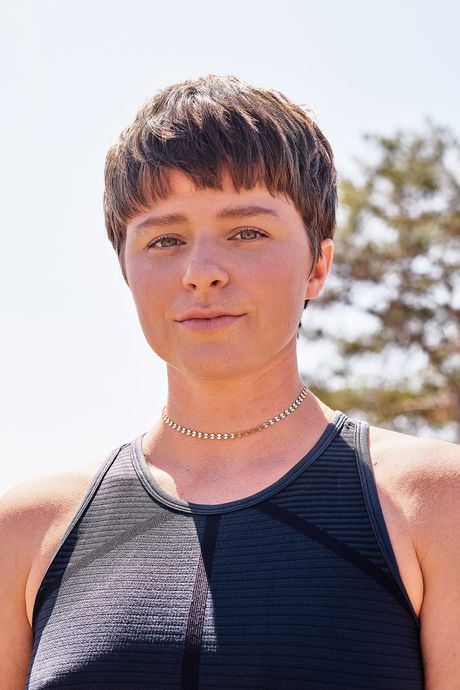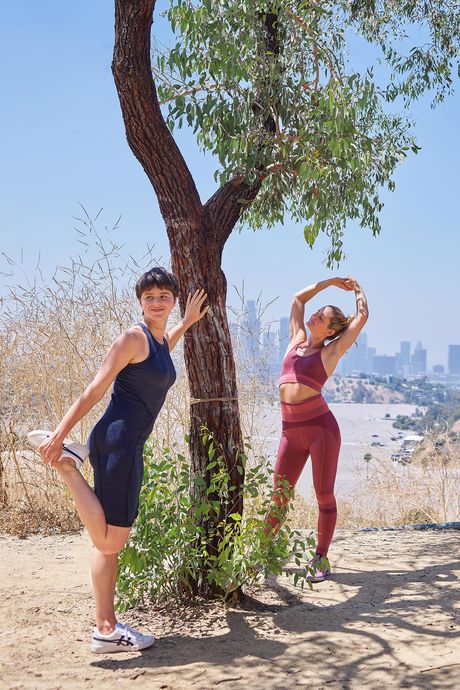 How she's developed friendships as a cross-country transplant: When I moved to L.A., I knew literally two people. The only way I knew how to make friends was to go out and party, but I didn't want to do that anymore, so I struggled meeting people who had the same interests as me. I started making friends through Instagram, blogging, and waitressing. I'd also reach out to friends who knew people here and ask them to get coffee; and then I joined a yoga studio and went nearly every day for six months. So it took time. Now I like to spend time with friends cooking dinner together, going for a walk, having a cup of coffee. Even just calling someone and talking on the phone for an hour grounds me.
The friend who's had her back the most: My cousin Lindsay and I grew up together and were in New York at the same time, and then we both eventually moved to L.A. Our relationship has blossomed as we've gone in and out of relationships and careers and all the external stuff has changed. I can always turn to her, and we want the best for each other. The summer after I graduated from college, I went through a rough breakup, and she invited me to a concert where I was able to just have fun and forget about my problems. She was like, "I'm going to take care of you." That's the kind of friend she is.
On reaching out beyond her (sort of) one-woman brand: My manager and graphic designer are women, and they're both amazing. I also have an attorney and an assistant who help me day-to-day. But hanging out with other people in the industry is really important because it is like a virtual world, so it's important to make those connections in real life. Our jobs are so weird and new, so it's important that we're honest with each other about where we're at. We'll be like, "Have you ever ran into this problem?" Anything from how we run our workshops, to what percentage to pay your agent, to what photo to post.
Why being vulnerable online has produced the best support system: Women are amazing at social media because we're really good at connecting. About 90 percent of my followers are women. When I first opened up about PCOS, I was so scared. But I felt so much better after because I learned I wasn't the only person struggling with it. It's important for me to have a community offline as much as it is for me to have it online. Since my job is mostly digital, I love meeting people in person. This girl came up to me after a talk I gave last year, saying how through reading my blog she started to love herself. It brought me to tears; feeling connected is such a huge part of surviving.
What the concept of "New Strong" means to her: I feel like I'm redefining femininity every day. I have a short haircut now and I don't always shave my body hair, and that freaks people out. But that's just who I am. Since I was 13, I was like, "Why do we shave our armpits again?" I go through phases, like right now I shave. But I really feel like people should do whatever they want. Whatever someone else wants to do with their ideas of femininity is none of my business. I like to wear make-up sometimes. Sometimes not. Every day is different and I'm always changing and I love that. For me, it's all about being comfortable in my skin and body; comfort definitely comes first. I feel most myself in clothing that allows me to move freely and doesn't slow me down, whether I'm walking my dog or dancing in my kitchen.
On finding strength in addressing "taboo" women's health topics: By talking about the things I do openly, I'm removing the shame around them. Like I talked about chin hair and electrolysis. A year before, I would have been so embarrassed to admit I had something like that, and then I was like, You know what? It's just something that happens. The same with how I talk about menstruation. There's literally nothing to be ashamed about. Our bodies doing their natural thing is amazing to me.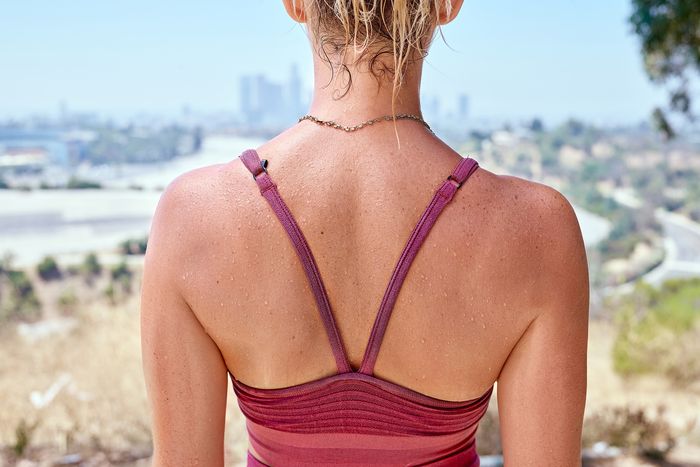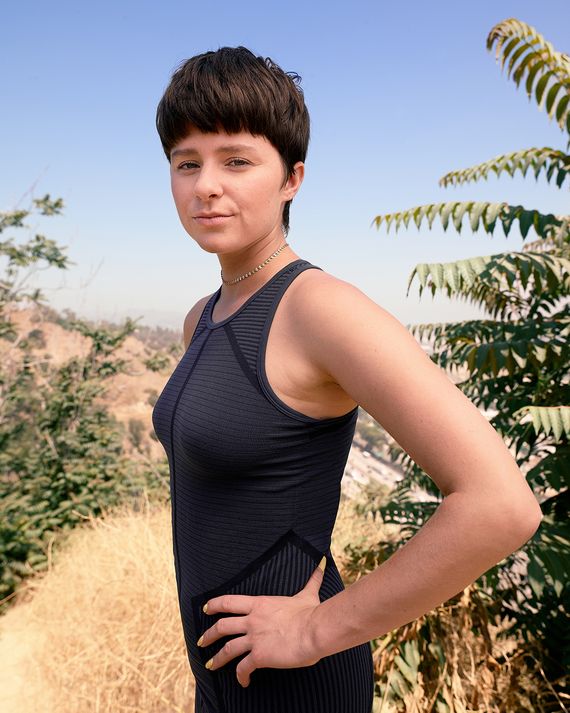 How mental wellbeing plays into her life and work: Mental health is the most important thing when it comes to my day. It permeates my relationships, work, and how I spend my time — my day isn't the same if I don't meditate in the morning. I think having a sound mind is being able to take in anything and being able to respond, not react. Because our mind and body are so connected, when you're present and able to be mindful, your body will respond well to that and the rest will fall into place naturally.
I think about supporting a healthy mindset even in terms of what I choose to wear for the day. I like clothes that feel good on and allow me to feel sexy in my body but also reflect my style, since clothing has always been a creative outlet for me. I'll make sure I feel confident in my clothing before walking out the door so it doesn't become a source of mental or physical discomfort, whatever I'm doing that day: working, stretching, hanging with friends, or exploring a new city.
Her outlook post-Instagram-hiatus: I'm looking forward to being online in a more sustainable way that feels authentic to where I'm at in my life. I'm working on figuring it out every day. For now, I just post content that feels relevant to me and honest as I go through this growth spurt. The women on my team know who I am and have been supporting me through it all, without judgement. It's been really helpful to have those women who love me there to help guide me, because I can't do it alone. No one can.
This is paid content produced for an advertiser by New York Stories. The editorial staff of The Cut did not play a role in its creation.