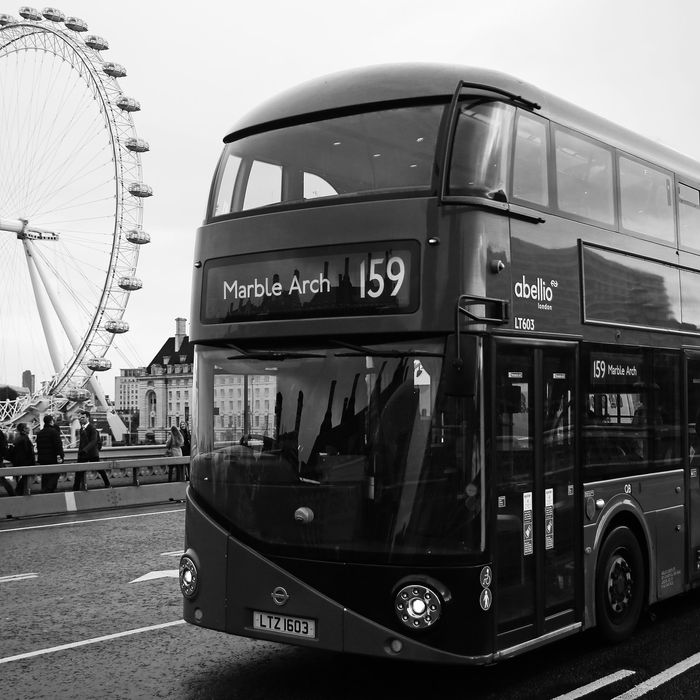 Photo: Daniel Leal-Olivas/AFP/Getty Images
Four teenage boys are denying that they assaulted a lesbian couple who refused their demand to kiss each other.
On the evening of May 30, Melania Geymonat, 28, and her girlfriend, Chris, were seated on the top deck of a bus in West Hampstead, London, when a group of boys confronted them, Metro reports. "They wanted us to kiss so they could watch us," Geymonat said, adding that she attempted to "defuse the situation" because her girlfriend wasn't feeling well. But before the couple knew it, the tense exchange escalated.
"The next thing I remember was Chris in the middle of them and they were beating her," Geymonat, whose nose was broken during the attack, told Metro. "I was pulling her back and trying to defend her so they started beating me up … I felt blood, I was bleeding all over my clothes and all over the floor." (Per the Guardian, Chris suffered a broken jaw.)
After beating up the couple, the boys reportedly robbed them and fled. That night, the women reported the crime to police; not long after, authorities arrested five male teens between the ages of 15 and 18, Slate reports. On July 25, Scotland Yard announced that four teenage boys between the ages of 15 and 17 had been charged with committing an aggravated hate crime, the BBC reports. On August 21, the four appeared at the Highbury Corner youth court, where they pleaded not guilty to causing harassment by threatening or abusive words or behavior, per the Guardian. The boys are next scheduled to appear in court on November 28 for a two-day trial, during which the two women and the bus driver are expected to provide evidence.
Since Geymonat first spoke publicly about the physical assault on Facebook, everyone from Mayor Sadiq Khan to Transport for London has condemned the attack as "misogynistic" and "homophobic" — and they haven't hesitated to call it a hate crime.
"Homophobic behaviour and abuse is a hate crime and won't be tolerated on our network," Siwan Hayward of Transport for London told the Mirror. "All of our customers have the right to travel without fear of verbal or physical assault and we are working with the police to stamp out this behaviour on our transport network."
Sadiq echoed Hayward's message: "Hate crimes against LGBT+ people will not be tolerated in London."
Geymonat told the Mirror that she's received hundreds of caring messages on Facebook after opening up about the attack. But she says she's tired of having to "endure verbal harassment and chauvinist, misogynistic and homophobic violence."
"What upsets me the most is that violence has become a common thing, that sometimes it's necessary to see a woman bleeding after having been punched to feel some kind of impact," she said. "I'm tired of being taken as a sexual object, of finding out that these situations are usual, of gay friends who were beaten up just because."
This post has been updated.