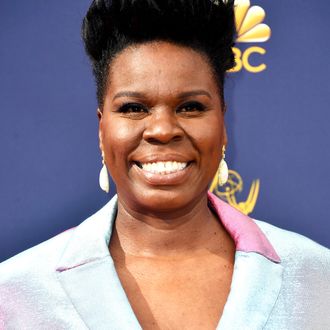 Leslie Jones.
Photo: Frazer Harrison/Getty Images
The first bits of news for Saturday Night Live's 45th season began to trickle in this week, including the premiere date (September 28) and initial lineup of hosts and musical guests, including Taylor Swift, Phoebe Waller-Bridge, Billie Eilish, Eddie Murphy, and more. And now there's been an update to the cast: Leslie Jones will not return to the show this fall. Not much is known about the rest of the season 45 cast yet, but it appears that at least one former cast member will definitely return: the show's resident Elizabeth Warren, Kate McKinnon.
The news of Jones's departure is mostly surprising, considering she was a breakout talent pretty much from the moment she started on SNL back in 2014. Jones is perhaps best known for her many "Weekend Update" segments, recurring pseudo-romance pretaped bits with Kyle Mooney (not to mention constant flirting with Colin Jost on "Update"), and using her powerhouse energy to take sketches to hilarious new heights, from the "House Hunters" parody alongside host Liev Schreiber to the Weezer sketch featuring Matt Damon to her Upper East Side rap, which earned an Emmy nomination this year.
Jones's work on SNL quickly led to movie roles on Chris Rock's Top Five, Amy Schumer's Trainwreck, and most notably Paul Feig's Ghostbusters. It's this momentum that takes away a little of the surprise from her SNL departure; she recently signed on to join the cast of the Coming to America sequel starring Eddie Murphy, and she announced on Late Night With Seth Meyers earlier this month that she's heading to Netflix soon with her very own stand-up special, so it's clear that Jones has plenty of comedy projects to focus on over the next few months.
Still, we'll miss you very, very much, Leslie.