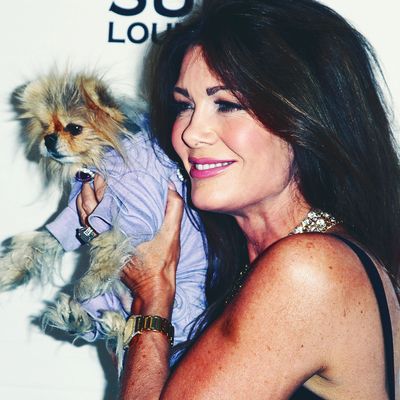 Photo: Alexandra Wyman/WireImage/Getty Images
What comes to mind when you think of Lisa Vanderpump's West Hollywood restaurant SUR, made famous by its inclusion in the greatest reality series of all time, Vanderpump Rules? Is it the restaurant's famous fried goat cheese balls? Is it the scene where DJ James Kennedy shouts "PUMP-TINI!" at Jax (even though that particular cocktail is only served at Lisa Vanderpump's other restaurant, Pump)? Is it the fact that SUR stands for Sexy Unique Restaurant?
Or is it … vomit and diarrhea?
Because of documents recently obtained by the Blast, you answer might soon change (to vomit and diarrhea). According to the site, the restaurant is being sued by a woman who visited SUR on August 19, 2017 and allegedly contracted a case of food poisoning so severe that she vomited profusely and, I'm so sorry to say, shit her pants right at the table.
According to the lawsuit, the unnamed woman ordered "white fish with orange cream sauce," which I have to admit is an absolutely disgusting combination of words to read in this context, and I apologize. The suit continues: "… one hour into eating her meal, [her] head suddenly whipped back, causing her body to move backwards as well, as she felt a hot sensation rise from her stomach, into her chest and then into her throat that she was unable to control." Oh no.
"Her head came forward while vomit filled her mouth," the suit claims, "and [she] began vomiting profusely."
But what about the diarrhea, you're wondering. You promised there was also going to be diarrhea. Oh my God, you're so gross, relax! As she fell to the floor, vomiting, the SUR patron began to "defecate through her clothing," according to the lawsuit. She was allegedly "unable to stop vomiting or defecating as she kneeled on the floor, causing [her] clothing to soil." Oh gosh.
The suit claims she was then transported to Cedars Sinai Emergency Department, where she spent three days in intensive care and five days total.
SUR co-owner Natalie Zapata (whom you know from Vanderpump Rules) told People, "Nothing is more important to us than the care and enjoyment of our patrons. We have maintained our 'A' rating from the department of health and regular checks from the health department. We have no record of this ever happening from two years ago in 2017."
(For what its worth, the lawsuit claims SUR was "inspected by the Health Department on or around July 14, 2017, during which the Health Inspector found seven (7) violations, including unclean food contact surfaces, the presence of rodents, insects, birds and/or other animals, and substandard equipment and utensils.")
Zapata added, "If someone had vomited and defecated on the floor, it would have immediately been reported to the health department and would have been on our cameras or others."
Did this woman really shit her pants and vomit on the floor of SUR after having — I'm so sorry — white fish with orange cream (orange CREAM) sauce? Or is SUR perfect and no one has ever gotten sick there, despite what you've heard from your friends who have gone as a goof? I hope we soon find out the truth, but either way it's exciting addition to SUR's already stunning legacy, you have to admit.