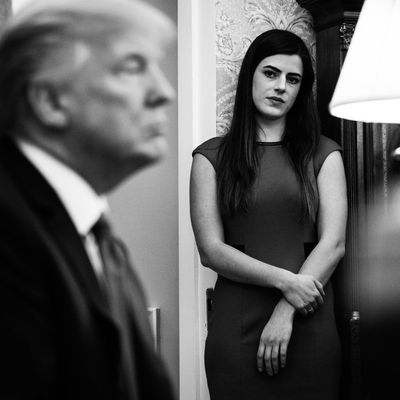 Photo: Jabin Botsford/The Washington Post via Getty Images
Dear Madeleine Westerhout, Donald Trump's 28-year-old longtime personal assistant, fellow California native, and former Pure Barre instructor,
The news has just broken that you were abruptly fired yesterday, after your boss learned that you had "indiscreetly shared details about his family and the Oval Office operations [you were] part of at a recent off-the-record dinner with reporters staying at hotels near Bedminster, N.J., during the president's working vacation."
I would very much like you to know that, in this turbulent time, you can count on me to be a shoulder to cry on and a person with whom to further share details of the details you already shared.
For example, what did you talk to reporters about re: Trump's family? Does it have anything to do with Melania Trump, Donald Trump Jr., or perhaps Ivanka Trump? Tiffany, even? And I would be more than happy to take on any more information about these "Oval Office operations" that you previously discussed. I feel that it would really help you to get some more of this stuff off of your chest right now.
Or perhaps you would like to talk about the reported fact that Trump liked to call you "my beautiful beauty?" Haha. Was that weird? Maybe that wasn't even remotely the weirdest thing about your job — again, please feel free to share with me any and everything about your time there. It can be an incredible source of comfort to vent to a new acquaintance, and let them write down what you said. Frankly, recording a conversation is more intimate and less distracting, so we could do that.
I'm available for dinner literally at any waking moment, day or night. Happy to come to you.
Sincerely,
A Friend