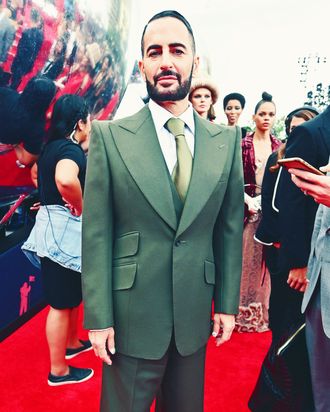 Marc Jacobs.
Photo: Dia Dipasupil/Getty Images for MTV
What do Lady Gaga, Missy Elliott, and Marc Jacobs have in common? Two things: 1. They all have a VMA award; and 2. They all love Marc Jacobs. Last night, the designer won MTV's first Fashion Trailblazer Award. Jacobs joked in an interview with MTV, "Being the first, I'm also the youngest, which is really important to me right now." He showed up at the red carpet accompanied by models wearing some of his favorite red-carpet looks, including Beyoncé's cover outfit for Vogue's 2015 September issue.
While Jacobs is known for over-the-top runway shows and for getting wild on the red carpet (see the sheer lace and pilgrim shoes he wore to the Met Gala in 2014), he went for a somewhat subdued outfit last night. He walked the red carpet in a khaki-green three-piece suit with strong shoulders, accessorized with sparkly red Prada pumps à la Dorothy from The Wizard of Oz. It's kind of reminiscent of his suit he made for Lady Gaga, which she said made her feel like she could "take power back."
Jacobs also shared his "VMA survival pack" from the red carpet, which included a vape, peanut M&Ms, and cuff links from Miuccia Prada herself. Hey, you don't become a Fashion Trailblazer without a high/low mix.