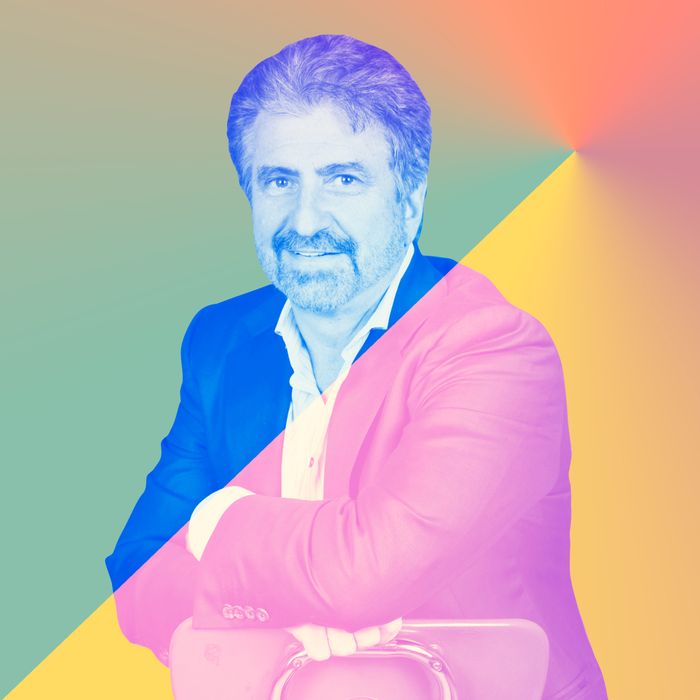 Photo: Courtesy of Lowenberg, Lituchy & Kantor
Marc Lowenberg may be one of the most famous cosmetic dentists in the world, but his first love was acting. He would put on shows in the backyard of his home in Elmont, NY, for anyone who would watch, and when it was time for college, he chose theater as his major. But a few words from his father shifted the course of his path.
"We were driving to D.C. and he said, 'Marc, you can do whatever you want with your life, and I will totally support you, but I know you; you're not going to be happy not making money. You're so good with your hands, you should become a dentist like your Uncle Sam.'"
When they arrived on campus, Lowenberg changed his major to premed.
When he wasn't performing, young Lowenberg was using his hands, building model airplanes, trains, and cars. Ironically, they failed him during a crucial part of the dentistry exam. Candidates were given a bar of chalk, from which they had to carve a geometric figure.
"I broke the chalk. That's an automatic zero, and it's like the bar exam. I would have had to wait a year to take it again," he explains. "Fortunately, I was the only pre-dent student at American University, so the dean wrote a letter to the dean of NYU dental school, and somehow I was allowed to take the test again."
This time, the chalk didn't break. And today, the patient list of Lowenberg, Lituchy & Kantor reads like the table of contents of Vanity Fair. It's not uncommon to spot a recognizable politician, actor, or musician in the Central Park South waiting room, where Lowenberg has been since 1973. The practice recently underwent a major renovation, largely to make room for its newest member, ceramist Jason Kim.
"We met him 25 years ago and it was clear he was super talented," says Lowenberg. "Every dentist wanted him, so we broached the idea of building him a lab and he joined us. Most veneers are created digitally, but he does everything by hand. If a color is a little off on a tooth, he'll come upstairs and fix it."
A few years ago, Lowenberg returned to his first love. An Off Broadway producer patient invited him to direct a one-act play. His father flew up for opening night.
"He came up to me afterwards with tears in his eyes," remembers Lowenberg. "He said, 'I'm so sorry, I should have believed in you.'"
"I said, 'Are you crazy?? I hated every second of it!'" laughs Lowenberg at the memory. "Being a dentist is what I was born to do."
Lowenberg spoke with the Cut about his refusal to go fully gray, the way he shocked his colleagues in the '80s, and which of his patients always, always floss.
What's your definition of beauty?
Anything in the universe that takes my breath away.
What do you think when you hear the term "clean beauty"?
The beauty industry has come a long way. Brands are more aware of what they're putting in their products, and where/how they're sourcing the ingredients.
Where, if anywhere, in your beauty (or life) routine are you not quite that "clean," "green," or "sustainable"?
I refuse to go fully gray so I tone down the gray in my hair with lowlights.
Please fill in the blank as it pertains to something connected to your beauty, self, routine — product or otherwise: I think about _____ a lot:
My hair. It's the last vestige of my youth.
What is the opposite of "beautiful"?
Nondescript.
Facial cleanser of choice:
Joanna Vargas Vitamin C Face Wash.
Toothbrush of choice:
I use a manual-held toothbrush that's custom-made for our practice from a company called Improve.
Toothpaste of choice:
Crest.
From where you stand, how many of your patients, in your estimation, regularly floss?
Those who spend a fortune on veneers? 100 percent to protect their investment. The rest? I'd say only about 30 percent.
Scent of choice:
Tom Ford Grey Vetiver.
Preferred sunscreen and SPF #:
MD Solar Sciences Mineral Crème SPF30.
Deodorant of choice:
Malin and Goetz Eucalyptus Deodorant.
Razor of choice:
BaByliss Pro Beard Trimmer.
Bath or shower?
Shower, with Irish Spring.
Shampoo/Conditioner of choice:
Oribe Gold Lust Shampoo & Conditioner.
What was your first grooming product? How old were you and how did you discover it?
Old Spice Cologne and I was 13 years old.
What do you carry your shit around in daily?
A Montblanc Attaché Case.
Work shoe of choice:
Allbirds.
Weekend shoe of choice:
Brunello Cucinelli.
What is your classic weekend uniform?
AG-ED Jeans and James Perse T-shirt.
How do you get your news?
Alexa's Morning Flash Briefing.
What do you splurge on?
Art.
What do you scrimp on?
Food.
If you could have infinity anything, what would it be?
Time.
What was the most recent interesting conversation you had?
At a recent dinner party, I discussed total body health and longevity with Dr. Richard Firshein.
What tiny thing can make your day?
Someone telling me that I changed their life.
What annoying thing can put you in a bad mood?
Incompetence.
What would the name of your autobiography be?
Game Changer.
Who would star as you in the film adaptation?
Patrick Dempsey.
What word do you overuse?
Seriously?
Favorite smell?
Pot roast.
Least favorite smell?
Cigar smoke.
What should Pantone's color of 2020 be, and please explain why?
Celadon because it's soothing and never goes out of style.
What must you adjust or fix when you see it done incorrectly?
Just about everything.
What was the biggest "No" you heard in your career? What did you learn from it?
When I first started doing porcelain veneers in the '80s, every dentist said "You can't do that!" because it wasn't taught in dental school. What I learned was that you have to believe in yourself and your own integrity.
Please share a moment from your career that touched you.
There have been so many, but they all have the same theme: People who suffer from low self-esteem because of the condition and appearance of their teeth. Transforming their smiles and seeing their joy always brings tears to my eyes. It's the most amazing feeling.
Favorite meal and where:
Cajun Chicken at Le Bilboquet.
Comfort food:
Hot pastrami.
Vice snack (or just vice):
Oreo cookies.
Most impressive dish you make:
Brisket. My mother's recipe still rules.
What food would you never eat?
Knockwurst.
What do you foresee as the top beauty trends for the remainder of 2019?
The desire for the appearance of natural beauty or undetectable improvements in beauty.
If you won the Power Ball tomorrow, what are the first five things you would do? (after, of course, donating the majority of it to your top charities …).
Change the lives of people who have worked for me and with me for the last 30 years, change the lives of the people I have known who struggle every day to get by, improve the lives of my children and grandchildren, send underprivileged kids to better schools and camps, and help all the people who have been there for me all my life.
If you buy something through our links, New York may earn an affiliate commission.