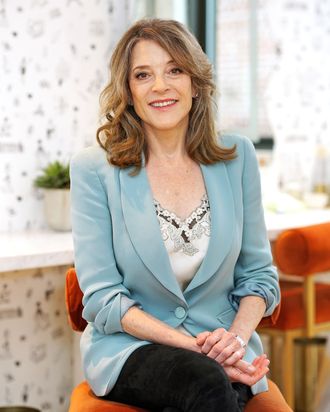 Marianne Williamson.
Photo: Katherine Pekala for The Wing
Marianne Williamson is comparing herself to a migrant. Specifically, to one of the thousands of people currently waiting at the U.S.-Mexico border, detained there in concentration camps. She is saying her dismissal as a serious presidential contender by what she calls the "political media–industrial complex," which has given her "the idea that you're not one of us so you don't belong here — How is that any different than what Trump is saying about people at the border?"
She's positing this while sitting in the Flatiron branch of women's-only club The Wing, wearing an aquamarine Armani blazer and red-bottomed stilettos. The blazer perfectly matches a section of The Wing's bookshelves, which are organized by color. Perched on a stool next to this beautifully appointed, impractical library, Williamson has spent Tuesday morning discussing things like "the spiritual issue of the dark night of the soul," and comparing herself to Martin Luther King.
Williamson came to New York directly from the Iowa State Fair, swapping cow barns and bean-counting contests for grain bowls and luxury toiletries. The Wing's founder and CEO, Audrey Gelman, received some blowback when she announced Williamson's visit to the feminist co-working space on Twitter. Some of her followers took issue with the fact that The Wing seemed to be endorsing a candidate polling at less than one percent, who has expressed several controversial views on depression, HIV, and eating disorders. "Not sure this was the right call, unless the moderator is planning to hold her accountable for her previous claims against vaccines, folks with HIV, mental illness, etc.," one person wrote. "Nothing is off the table!" Gelman replied. She emphasized that The Wing would be hosting all of the female candidates in the running.
A week later here she was, all flawless cheekbones and huge, sparkling eyes, swaying slightly like a single eucalyptus branch in a minimalist vase. Interviewing Williamson at The Wing was journalist Amy Chozick, who called Williamson's reference to the plight of asylum seekers, when discussing being shutout by MSNBC and CNN, "extreme." "Don't put words in my mouth, there was no comparison to the border," Williamson says. "I'm talking about a mind-set of exclusion. Okay? …That's where everything comes from, just these thoughts … I actually don't think it's extreme at all."
The exchange fit into a pattern for Williamson, who has a habit of going rogue, reality-wise. Later in the conversation, she regrets a recent incident in which she called antidepressants a "scam" on a radio show with Russell Brand; but she also goes on to compare the dangers of antidepressant overprescription to those of opioids, and of guns. As for a more recent comment against mandatory vaccines, which she called "draconian," she apologizes for that one, too. "But I don't tell people what to do," she muses about her message as a spiritual healer and as a presidential candidate. "I pose questions."
Questions are almost exclusively what I'm left with after listening to Williamson speak for an hour. She has a romantic, Bernadette Peters–esque alto voice, which sounds both southern (she's originally from Texas) and vaguely English (she's lived for decades in Los Angeles, where you can have whatever accent you want). At The Wing, Williamson was riding high on a postdebate wave of interest that had America Googling what a "dark psychic force" was, enthralling most of the women in the room, who were almost exclusively white. One diehard behind me occasionally spoke in tandem with Williamson, trying to finish her sentences, as if she were leading a round of "om."
Sitting in the rows of temporary chairs, it was very clear what Williamson wouldn't be talking about: policy, or what she and Chozick refer to as "wonkiness." "Many Democrats have not understood that the part of the brain that rationally analyzes an issue is not always the same part of the brain that decides who to vote for," Williamson says. The sole rational-brain topics she alludes to are her plans for a "Department of Peace" and a "Department of Children and Youth." She compares herself to Gandhi (in addition to MLK), someone who thought that "love, and not an amoral economic theory, should guide civilization." (Gandhi has a school of economic thought, Gandhian economics, named after him.)
I could see the attraction of Williamson on a visceral level; as someone who has spent decades persuading people to feel better, and to buy her self-help books, she has a kind of Great Awakening appeal, with crystals. She has the comedic timing of a cabaret performer ("I was a singer like Bill Clinton was a saxophone player," she quips). Speaking of those migrants at the border, "desperate people walking across the desert," she leans forward, genuinely in anguish, hands clutched to her chest and near tears. Her willingness to speak in metastasis, to diagnose a deep psychological and physical rot in the heart of America, is powerful. It's why she's so good on reparations, the only other concrete policy issue she speaks about at The Wing (to applause led by a white woman); she talks in human terms, of wounds.
But in practical terms, there is no mention of climate change, nor abortion, nor free college, nor immigration, in fact, and definitely not Medicare for All. Williamson says America went wrong "as soon as we started making the businessman god" — but she doesn't want to talk in specifics about any of the systems that made that happen, even though she claims she is "very left, right there with Elizabeth Warren and Bernie."
No one seemed too concerned that her platitudes echoed like the political equivalent of a set of Tibetan prayer flags hung up in a college dorm, the motivational Instagram caption as campaign platform. (Although, one fan asked how Williamson would "deal with, like, drones and the military and all that kind of stuff.") It felt like many of those in the room wanted to hear about the big changes the world needed without being forced to think about the details. This strategy is surprisingly effective, still — Williamson fans include groups as disparate as corporate feminist clubs; astrologers and tarot-card readers; libertarians; the edgelord left, who have made her a meme goddess of wonk-vaporizing orbs; and David Brooks. (Not all members of feminist clubs though; afterward, I overhear one woman say it was like listening to Zoolander.)
"This is woo-woo? This is America," Williamson says at The Wing of her constituency. "I heard some woman say, who is one of the established pundit voices, some comment like, 'I don't do yoga' … And I said something like, 'There are as many yoga girls as coal miners.'"