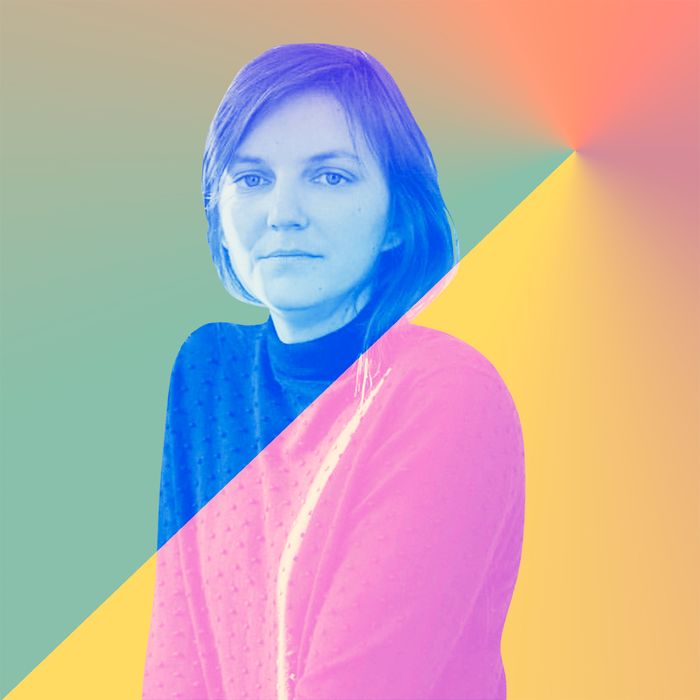 Last July, four months in as Glossier's creative director, Marie Suter took the stage on karaoke night at the company's annual summer retreat. She grabbed the mic and morphed into Axl Rose in her rendition of "Welcome to the Jungle."
"I'll never forget the darkness on everyone's faces. They seemed a little disturbed yet fascinated," she laughs at the memory. "People came up to me later, high-fiving me. 'That rage was very cool, man.'"
Growing up in a suburb outside of Paris, Suter turned to Guns 'n Roses as her de facto English tutor. "I learned the songs just by the sound and the breathing," she explains. "I still do that, and I often still don't know what the words mean!"
With a photo-agent mother and an art director father (he created the original United Colors of Benetton campaign, and it is his handwriting on Galleries Lafayette's decades-used scripted logo), Suter found her own calling during an internship at Vogue Paris.
"All these amazing fashion editors were there at the time, but when I saw what the creative directors were doing, I thought, 'I want to do what that person does.' And that's when I came to New York."
Gilles Bensimon, Elle's international creative director and a longtime colleague of Suter's father, gave her a job at American Elle, but when Elle Girl was launching, she raised her hand.
She followed Elle Girl's editor-in-chief Brandon Holley to Jane magazine, which eventually folded, but returned to Condé Nast five years later as creative director of Teen Vogue. "I ended up working on four magazines at the same time," she say. "Teen Vogue, Them, Allure, and W. One day, out of the blue, I got an email from Emily Weiss."
Suter wasn't a Glossier user, nor was she on Into the Gloss with any regularity, but Weiss got her. "She asked me what I enjoyed doing and what I was good at," recalls Suter. "That was the first time in my career I was ever asked that."
So she leapt.
Sixteen months in, Suter has fully acclimated from the monthly magazine pace to the firehose speed of a direct-to-consumer website.
"The passion for this brand, and what the community expects, really keeps us on our toes," she says. "Nothing can be just mediocre, not even the stickers that you put on your phone. But everything is moving so fast, and I'm a perfectionist, so sometimes that's hard."
Suter spoke with the Cut about her workout intentions, her passionate feelings about watermelon, and the unique way she wore fragrance as a child.
What's your definition of beauty? 
Honesty.
Please fill in the blank: I think about _____ a lot.
Wanting to work out.
What is your morning beauty routine? 
I shower, brush my teeth, cleanse with micellar water, add whatever serum, then finish with moisturizer and sunscreen.
What's the last beauty product you use every night?
Dermophil Indien Lip Balm.
What constitutes a good facial?
One that doesn't leave me looking like a tomato.
Base of choice: 
Glossier Skin Tint in G10.
Blush of choice: 
Never blush — I'm already red enough.
What shade, if any, is usually on your toes and/or hands? 
Wicked by Essie on my toes.
Facial cleanser of choice: 
Tata Harper Oil Cleanser.
Fragrance of choice: 
Comme des Garcons 2.
Preferred sunscreen and SPF #:
Cicapair Tiger Grass Color Correcting Treatment SPF. One of our art directors recommended it to me.
Bath or shower? 
Shower, with Aesop Geranium Leaf Body Cleanser.
What was your first beauty product obsession? 
I was really obsessed with perfume samples when I was a girl. I pulled scent strips from magazines and stole samples from my mom. When I was 6, I poured a sample fragrance vial up my nose, and it hurt like hell. My mom was like, "Why did you do that?!" and I said I wanted to smell good.
Daily carry-all of choice:
A canvas bag from Front General Store in Dumbo.
What is usually on your feet? 
Always sneakers. My favorite are a pair of New Balances that my husband and daughter designed for me.
What is your classic uniform?
Levis 501s and button-downs from my Mom, but I also love Muji and Cos.
Who, or what, in pop culture are you currently intrigued or obsessed with? 
Coco Gauff and Billie Eilish.
How do you like your bed? 
I like to be lost in my bed — lots of pillows and blankets and all white everything.
What do you splurge on? 
Vacations.
What do you scrimp on? 
My fitness habits.
If you could have one ridiculous indulgence, what would it be? 
A personal chef.
What was the most recent interesting conversation you had? 
With my daughter about gender identity.
What makes your skin crawl? 
Watermelon.
What tiny thing can make your day? 
Seeing an old couple in love.
What annoying thing can put you in a bad mood? 
When my subway card runs out of money.
What would the name of your autobiography be?
Ooh Là Là.
Who would star as you in the film adaptation? 
Uma Thurman in Kill Bill: Volume 1, but not the part when she's buried alive.
Favorite smell?
Mitsouko by Guerlain. It's my mom's perfume.
What do you think Pantone's color of 2020 should be, and why?
Pantone 7707 for a few reasons: my favorite color is blue and 7 is my favorite color, it matches my daughter's favorite pen, and — this might be a stretch — but next year we'll have the first female 007.
Where do you keep your ideas stored? 
In a lot of different notebooks.
Favorite meal and where: 
Pizza Moto in Brooklyn.
Comfort food: 
Baguettes.
Vice snack (or just vice): 
Haribo Gummy Bears.
What was the last thing that made you laugh?
A cat meme that my coworker sent me.
What do you foresee as the top beauty trends for the remainder of 2019? 
I hope all beauty trends continue to be about individuality.
What product in your domain is misunderstood and should be a bestseller? 
I think Glossier You is an unsung hero. It smells amazing and a little different on everyone.
What product in your domain is currently your favorite (understanding that this could change all the time)?
Lash Slick Mascara!
If you won the Power Ball tomorrow, what are the first five things you would do? (after, of course, donating the majority of it to your top charities … ) 
Take my daughter on safari, buy a piece of land by the ocean for my husband to build our dream house, move to Japan, learn Japanese, and open an art gallery in Naoshima.
What do you want? 
I want people to be nice.
If you buy something through our links, New York may earn an affiliate commission.