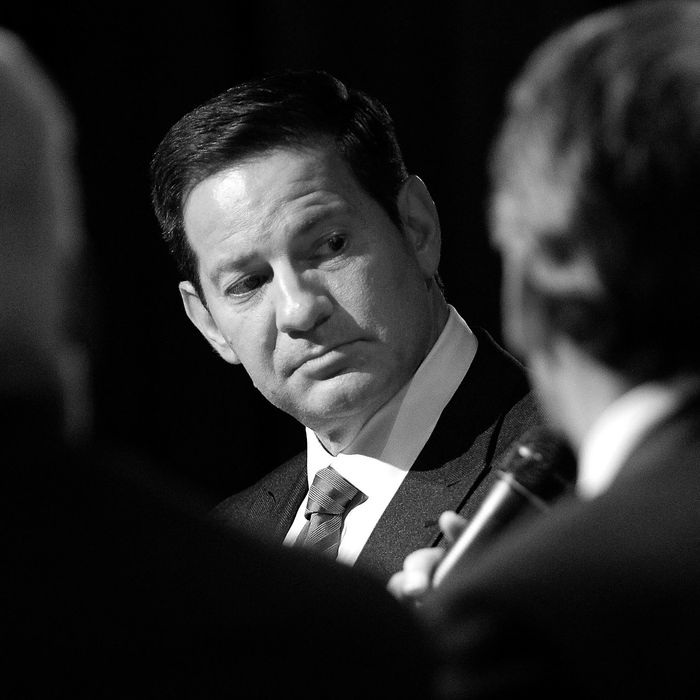 Photo: Paul Morigi/Getty Images for Showtime
Mark Halperin, the former MSNBC political analyst who was accused of sexual misconduct by multiple women in 2017, has signed a deal to publish a book called How to Beat Trump: America's Top Political Strategists on What It Will Take.
As Politico Playbook reports, the book will feature interviews with over 75 Democratic political strategists, including Jill Alper, David Axelrod, Anita Dunn, and Jim Margolis, and is scheduled for a November release. News of the book deal has prompted criticism on Twitter, with users calling out the strategists who agreed to be interviewed by Halperin.
In 2017, at least 12 women accused Halperin of sexual harassment and assault, which occurred during his employment at ABC News between the years 1994 and 2006. Halperin had allegedly grabbed a woman's breasts, made sexual comments, propositioned co-workers for sex, and pressed his erect penis against multiple women. "I went up to have a soda and talk and — he just kissed me and grabbed my boobs," one of the women told CNN. "I just froze. I didn't know what to do." Another woman recounted a meeting she had with Halperin during which he stood behind her and pressed his penis on her shoulder.
After the women came forward, Halperin was fired from his commentary gigs with MSNBC and Showtime. Though Halperin has been mostly quiet since then, the journalist had been seemingly attempting a comeback this year by resuming his Twitter and launching a blog.
According to Politico Playbook, Judith Regan, the head of Regan Arts, will release this statement in regards to her decision to publish Halperin's book: "I do not in any way, shape, or form condone any harm done by one human being to another. I have also lived long enough to believe in the power of forgiveness, second chances, and offering a human being a path to redemption. HOW TO BEAT TRUMP is an important, thoughtful book, and I hope everyone has a chance to read it."